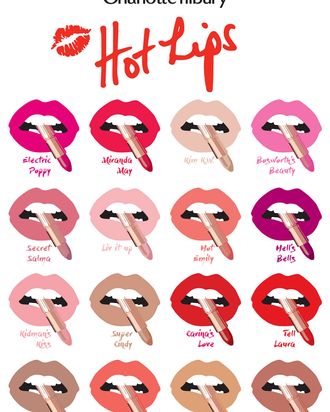 Charlotte Tilbury's Hot Lips.
Photo: Courtesy of Charlotte Tilbury
Makeup artist Charlotte Tilbury has a lot of famous best friends. You may know them by their first names — Sienna, Victoria, Kate, Miranda — but Tilbury really knows them, and she roped them into Hot Lips, her latest lipstick collection. One of these famous friends is the infamous Kim Kardashian-West. "She and Kris signed off on it!" Tilbury said at a launch event, with a sigh of relief, brandishing a pale-pink, nude lipstick called Kim K.W.
Like many things Kardashian, the color is unique to to Kim herself. Although it looks very pretty in swatches, it read as too pale and chalky on the lips of the Cut staffers who tried it. But that's why we aren't Kardashians. Other shades, such as a rich tomato-red named Carina's Love (for Hong Kong actress Carina Lau) and a plummy red called Hell's Bells (for Helena Bonham Carter), are much more flattering. There are 16 shades total, and $2 from each goes to Women for Women International.