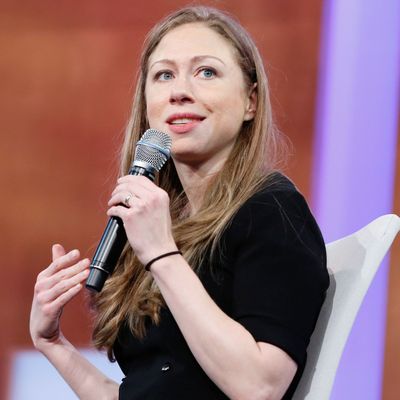 Chelsea Clinton: creative genius.
Photo: JP Yim/Getty Images
Throughout the presidential campaign Chelsea Clinton has acted as a surrogate for her mother, voicing her support and even going up against one of her longtime friends to strengthen Hillary Clinton's message. During an interview on Today Thursday morning, Clinton continued to speak out in favor of her mother and against Donald Trump, but she also made another valuable contribution to the Clinton campaign: She proposed a title for the potential first husband.
On Wednesday, Bill Clinton gave a model first lady speech, but should he eventually fill that role full-time, no one is quite sure what to call him. "He likes to harken back to his kind of Irish roots," Chelsea explained. "So I think he'd love to be called 'first laddie.'"
First laddie — genius. It's catchy, it's fun, and it even works with the FLOTUS acronym. But Clinton acknowledged it might not catch on, in which case, she said, "I'm definitely voting for 'first gentleman.'"
Clinton is set to introduce her mother at the Democratic National Convention Thursday night, and she gave NBC's Matt Lauer some idea of what her speech will entail. "I just hope that people understand even a little more when I'm done than when I started about why I love her so much and admire her so much," she said. 
Lauer then asked if she'd consider meeting with Ivanka Trump — with whom she's always been friendly — to discuss the tone of the Republican campaign. "It's something I would consider," she said. "I think it was clear last week when Ivanka introduced her dad that she's so proud of him. And yet clearly Ivanka and I have different views about who we think should be our president and who we think best represents our country."
She went on, "My mother is not engaging in divisive, bigoted rhetoric. I think what we're seeing here in Philadelphia is a very strong contrast to that."