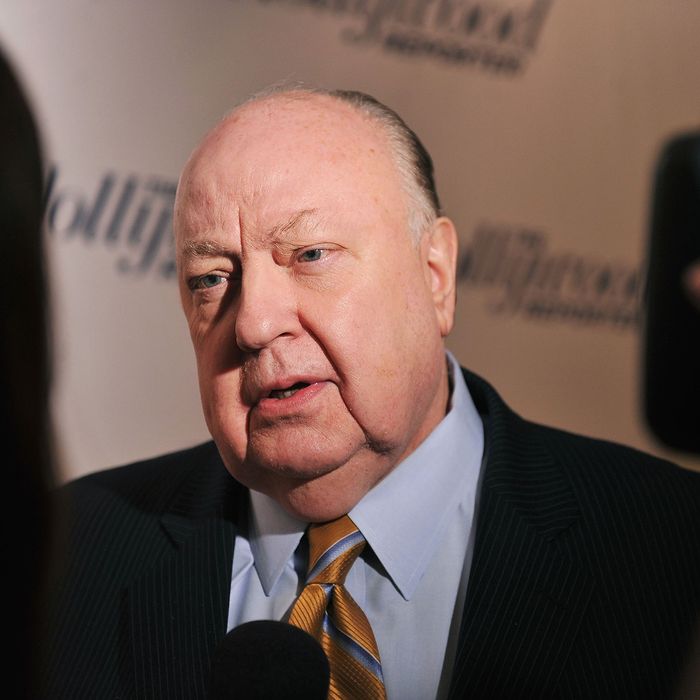 Roger Ailes.
Photo: Stephen Lovekin/Getty Images
Mere hours after former Fox News personality Gretchen Carlson filed a sexual-harassment lawsuit against Roger Ailes, the network's CEO has responded with his own statement.
In short, Ailes says the allegations against him are completely "false," and are instead a conveniently timed retaliatory attack against him after Carlson's employment was terminated at Fox.
Carlson's lawsuit, filed in the Superior Court of New Jersey on Wednesday, states that she was fired after not accepting Ailes's sexual advances and that she was made to work in a hostile environment after she complained about other sexist remarks at the company.
In the complaint, Carlson alleges Ailes made "sexually-charged comments" to Carlson, "ranging from lewd innuendo, ogling and remarks about Ms. Carlson's body to demands for sex as a way for her to improve her job standing," according to Politico.

To this, Ailes responded with a statement that read in part:
Gretchen Carlson's allegations are false. This is a retaliatory suit for the network's decision not to renew her contract, which was due to the fact that her disappointingly low ratings were dragging down the afternoon lineup" Ailes's statement said. "When Fox News did not commence any negotiations to renew her contract, Ms. Carlson became aware that her career with the network was likely over and conveniently began to pursue a lawsuit. Ironically, Fox News provided her with more on-air opportunities over her 11 year tenure than any other employer in the industry, for which she thanked me in her recent book. This defamatory lawsuit is not only offensive, it is wholly without merit and will be defended vigorously.
Carlson had filed the eight-page lawsuit against Ailes earlier in the day, alleging Ailes had told her the two should have had a "sexual relationship a long time ago," according to the suit. He also allegedly made remarks about her legs and claimed he had slept with three former Miss Americas but not her. (Carlson is a former beauty-pageant queen herself, having won the Miss America pageant in 1988.)
The lawsuit also cites some sexist behavior from her former co-star, Steve Doocy, though the suit is only against Ailes, Carlson's lawyer, Nancy Erika Smith, told CNN Money. Within hours, at least ten other women had contacted the law firm wanting to speak about Ailes's behavior.
Ailes's remarks stand in contrast to the much tamer response from Fox News' parent company, 21st Century Fox. In a statement released to media outlets (also minutes before Ailes's remarks were released), the company said it takes matters like this "seriously."
"While we have full confidence in Mr. Ailes and Mr. Doocy, who have served the company brilliantly for over two decades, we have commenced an internal review of the matter," the statement read.
Shortly after news of the lawsuit came to light, reports of other women experiencing sexual harassment by Ailes also surfaced. Citing unnamed sources, one former Fox News contributor reported for the Huffington Post that the lawsuit was only a matter time. One Fox News contributor said Ailes had once asked her to turn around so he could "see [her] ass." Another employee said Ailes often bragged about how he chose on-air talent.
"He told me that if he was thinking of hiring a woman, he'd ask himself if he would fuck her, and if he would, then he'd hire her to be on-camera," the employee told the Huffington Post. "He then said if it was a man he'd think about whether he could sit down for a baseball game with him and not get annoyed of him. If he could, then he'd hire him."
Carlson had been a longtime co-host on the Fox News show Fox & Friends, before moving on to host her own midday show, The Real Story With Gretchen Carlson. Her employment with the company, though, was terminated on June 23, 2016, nine months after Carlson had allegedly turned down Ailes's advances.
In a piece written for the Huffington Post last year, Carlson also referred to having experienced sexual harassment in the workplace, though she never specified from whom.