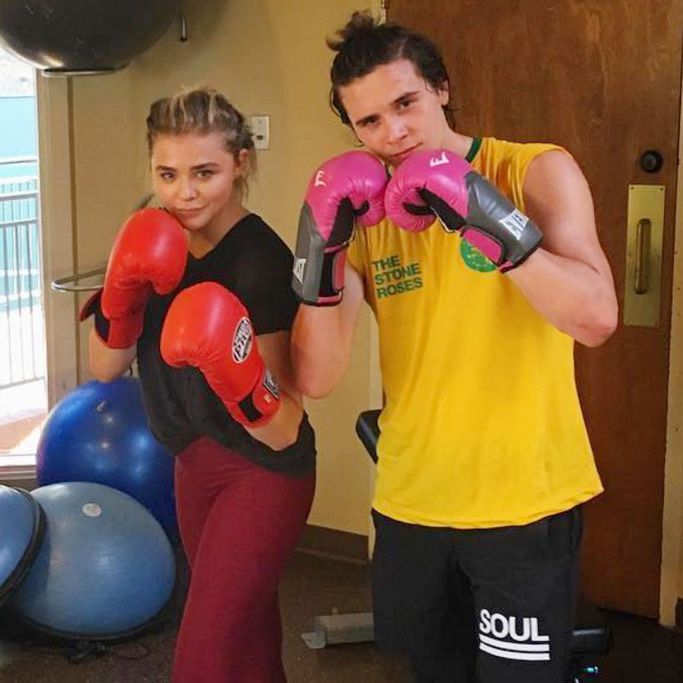 Chloë Grace Moretz and Brooklyn Beckham.
Photo: chloegmoretz/Instagram
Chloë Grace Moretz, a teenage actress and Twitter user, is dating Brooklyn Beckham, a teenage son of David and Victoria Beckham. You know that to be a fact, because the two post photos of each other constantly on social media, and then tabloids publish those photos, and then we publish the tabloid reports about those photos with "comments."
Yesterday, Chloë posted a photo of her and Brooklyn wearing boxing gloves doing boxing stances at a boxing gym. (Caption: "Put em uppp put em uppp.") Today, People published this story: "From SoulCycle to Boxing! Chloë Grace Moretz and Boyfriend Brooklyn Beckham Up Their Fitness Game Together with Workout Date."
My comment: Why are these teens working out all the time?
According to People, Chloë and Brooklyn actually met in a SoulCycle class two years ago, when they were 17 and 15, respectively. Since then, they have gone on several spin-class "dates." In 2014, a source told the mag, "They cycle next to each other and are very cute. Always look to be cheering each other on with smiles. They also both seem very competitive, but in a fun way."
Two years later, nothing has changed, except the indoor location of the couple's "workout dates." It's a free country, but in my opinion, two beautiful Hollywood teens with their whole lives ahead of them should not be spending their summer and their money locked in a gym like hamsters on a wheel. Maybe Chloë and Brooklyn could try these dates instead:
1. Beach date
2. Movie date
3. Hollywood movie-premiere date (I bet they could get invited)
4. Light drug experimentation
5. Hiking date (this is a workout, but at least it's outside)