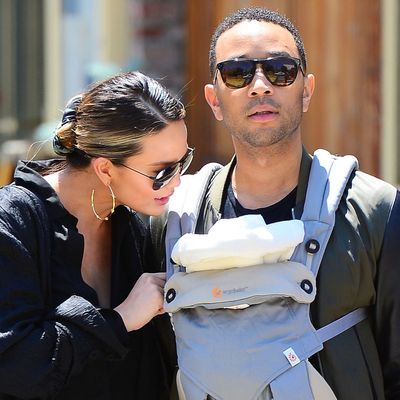 Photo: Raymond Hall/Getty Images
As if we needed further proof that babies are almost guaranteed to look adorable when they're dressed in costume, Chrissy Teigen has kindly offered baby Luna as example No. 1.
On Thursday, Teigen shared a photo on Snapchat of baby Luna dressed in a mermaid costume, looking quite like a mini-Ariel.
The itty-bitty crochet outfit on the 2-month-old came complete with a green fin and a tiny pink seashell-shaped bra.
Teigen also gave a shout-out to the team at Vita Coco for apparently gifting the look. Teigen, who recently became a spokesperson for the company, told Us Weekly that coconut oil has helped keep baby Luna free from diaper rashes.
But knowing how much of a foodie Teigen is, the scent of the coconut oil is probably what really made her a convert.