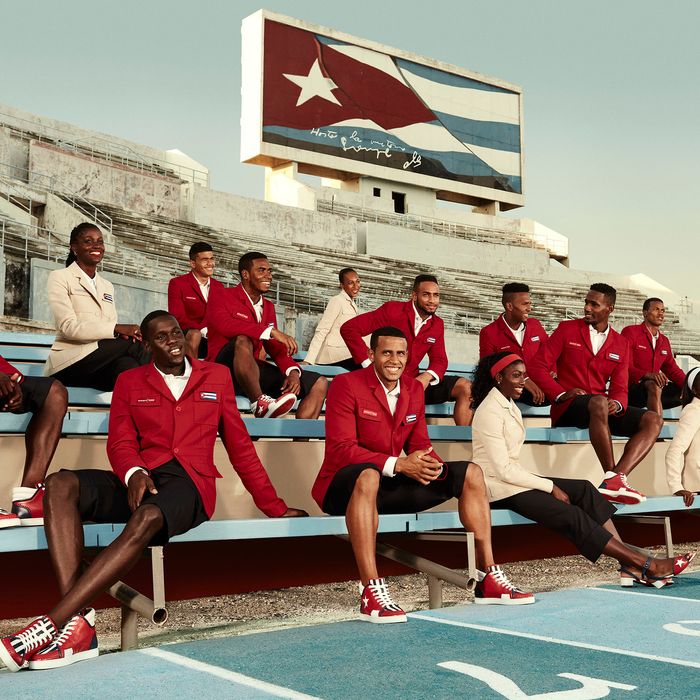 Cuba's Olympic team wearing the new collection.
Cuba's Olympic team will be dressed by Christian Louboutin for next month's biggest runway show: the closing ceremony at the Olympic Games. And in a rare moment for the fashion industry, the looks were created with input from the Cuban athletes themselves.
Announced Thursday, the Cuban team will wear formalwear designed by Louboutin and Henry Tai, a French former professional handball player who founded the online retailer SportHenri.com. The collection — tailored Guayabera-inspired jackets with flag patches; calf-leather kitten-heel sandals, high-tops, and loafers bearing a five-pointed star — were created in a series of custom fittings with current and former Cuban Olympic athletes in a Paris atelier.
The collaboration with the Cuban athletes represents a significant move within the fashion industry. As Fashionista noted, designers have often tended to "glorify a prerevolutionary, sugar-coated Cuba" rather than explore the country's modern culture — well before President Barack Obama re-established diplomatic relations with the country last July. This was most recently evident in Karl Lagerfeld's 2017 resort collection for Chanel, in which 700 guests were whisked to Cuba's Paseo del Prado boulevard in colorful 1950s cars. "This is all about my vision of Cuba," Lagerfeld told the Cut before the show. "But of course, what do I know about Cuba? It is very childish, my idea."
While the Cuban Olympic team's collection also spotlights classical clothing from the '50s, the approach and collaboration with the athletes sets it apart. "We wanted to dress the Cuban delegation with a genuinely Cuban idea," Louboutin said in a video launching the collection, later telling WWD why these clothes were designed with the closing ceremony in mind: "We designed the celebratory outfit for the moment they turn back into humans, still in that glory moment, still in their light but heading back to the real world."