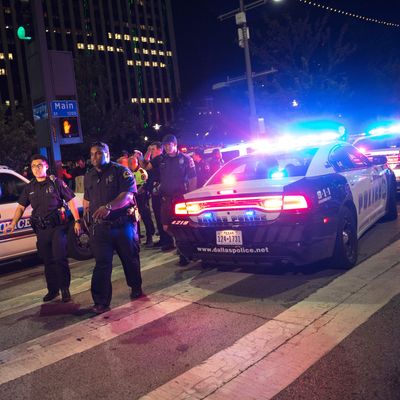 The scene of the shooting in Dallas on Thursday night.
Photo: LAURA BUCKMAN/AFP/Getty Images
On Thursday night, snipers opened fire after a peaceful protest in Dallas, killing five police officers. Several more were wounded, including a civilian: Shetamia Taylor. According to the Associated Press, the 37-year-old mother was at the protest with her four sons, ages 12 to 17, when shots rang out. Her first instinct was to shield her 15-year-old son.
As of Friday morning, Taylor was undergoing surgery at Baylor University Medical Center; she's expected to recover. According to Williams, "She's not so much worried about the gunshot wound. We're watching the news in the hospital room, and all she can do is say, 'Lord, be with those families of the police officers.' And that's what she kept repeating."
Three people are reportedly in custody in connection with the shooting, and a fourth sniper was killed in a standoff with police.