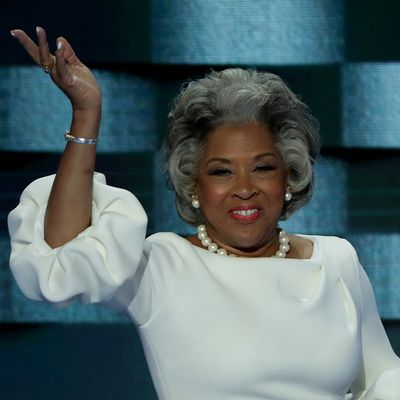 Photo: Alex Wong/Getty Images
Ah, if only Joan Rivers were still around so she could weigh in on this special politics edition of "Who Wore It Better?" at the conventions this election season. (Or, as Rivers would cry out, "Bitch stole my look!")
Now, the contenders in this battle are not your typical red-carpet starlets (even though one is a former model). Instead this is what we have: Melania Trump, wife of Donald Trump and potential First Lady; and Joyce Beatty, a Democratic congresswoman from Ohio.
Judging from the fuss last week about Trump's speech, I'm just going to call it right now and say that Beatty wins this one while throwing some political shade.
At last week's Republican convention we were treated to the lovely sight of Melania Trump delivering a speech while wearing an off-white dress by Roksanda with distinct billowy sleeves that hit just below the elbow.
It was a fashionable choice and one that got plenty of praise on Twitter. Until, of course, journalists noticed that her speech contained parts that appear to have been lifted directly from Michelle Obama's speech in 2008. One breath later and the actor/activist Jesse Williams began the hilarious #FamousMelaniaTrumpQuotes. The rest is Twitter history.
Fast forward one week later at the Democratic National Convention. There you had Beatty walk onstage wearing a big smile and an off-white dress with distinct billowy sleeves that — if it's not the same dress, is a darn good replica — drew immediate comparisons to Trump's white dress. Trump bought her dress online, meaning the rest of us could also have gotten our hands on it before it sold out.