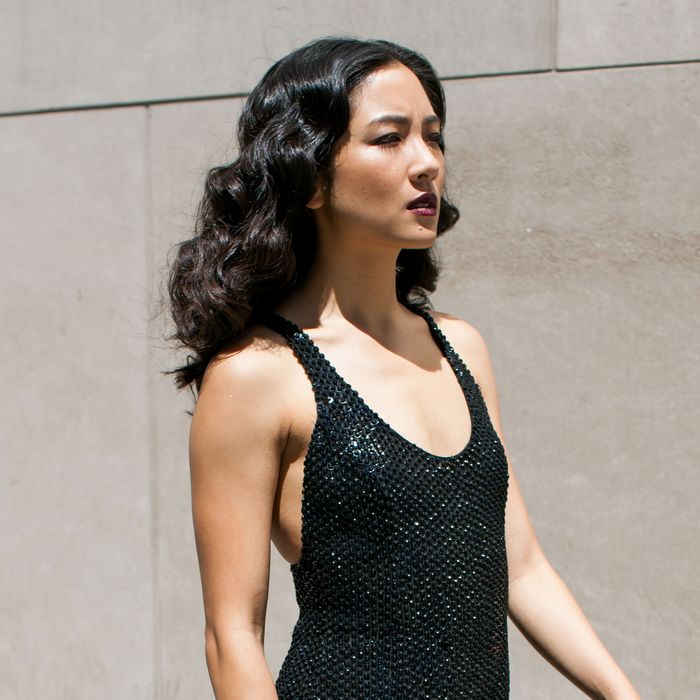 Constance Wu.
Photo: Andre Wagner
It's hard to believe now, but, just a few years ago, Constance Wu wanted to give up acting. The breakout star of ABC's sitcom Fresh Off the Boat explains: "I was at a point where I was still waiting tables, nannying, being a personal assistant, struggling to make ends meet, going through heartbreaking audition after heartbreaking audition, and I had a moment where I had to ask myself, 'If you're still a waitress when you're 45, is that cool?'"
The realization that she was, in fact, okay with that brought her to the place she is today. "If somebody judges me, then they're not my people, and that's all right. I'm okay with not having a super-secure lifestyle because if you're doing what you like, you don't need stuff to fill any empty holes."
Acting has always been what Constance Wu likes best. Growing up in Richmond, Virginia — or what she calls "a very conservative South" — as part of her neighborhood's only Asian family, she gravitated to theater because of its openness and opportunities. Her current role as Jessica Huang on Fresh Off the Boat has catapulted her to a new level of fame, but she hasn't forgotten where she came from.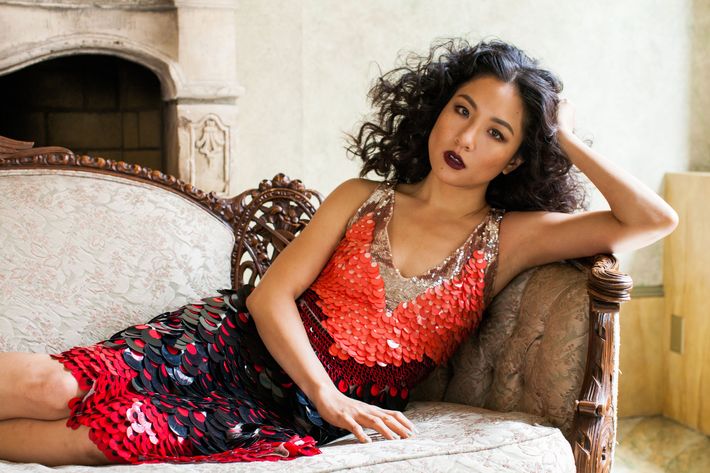 Altuzarra dress, $3,995, Neiman Marcus.
Constance studied theater in college, figuring it was already her favorite creative outlet. Faced with the challenges of the industry — not just the politics, but the constant fear of failure — she only became more determined to stick with it. "Everyone's going to fail at some point," she says. "Even if you choose the steadiest career, you're going to go through that."
What's her dream role? I expect the answer to involve Shakespeare, so I'm surprised when she quickly replies, "The one dream I have is to do a musical. I love singing, but most people don't know because I don't sell myself as a musical person. My dream is to play Audrey in Little Shop of Horrors — it would be so interesting to have an Asian Audrey because it's all about achieving the American dream in a sinister, success-driven way."
You should be pitching yourself for that as soon as possible, I tell her — it sounds groundbreaking. "I've already talked to some people about it," she replies. "I don't think they think I'm famous enough for that yet — or white enough yet for that part."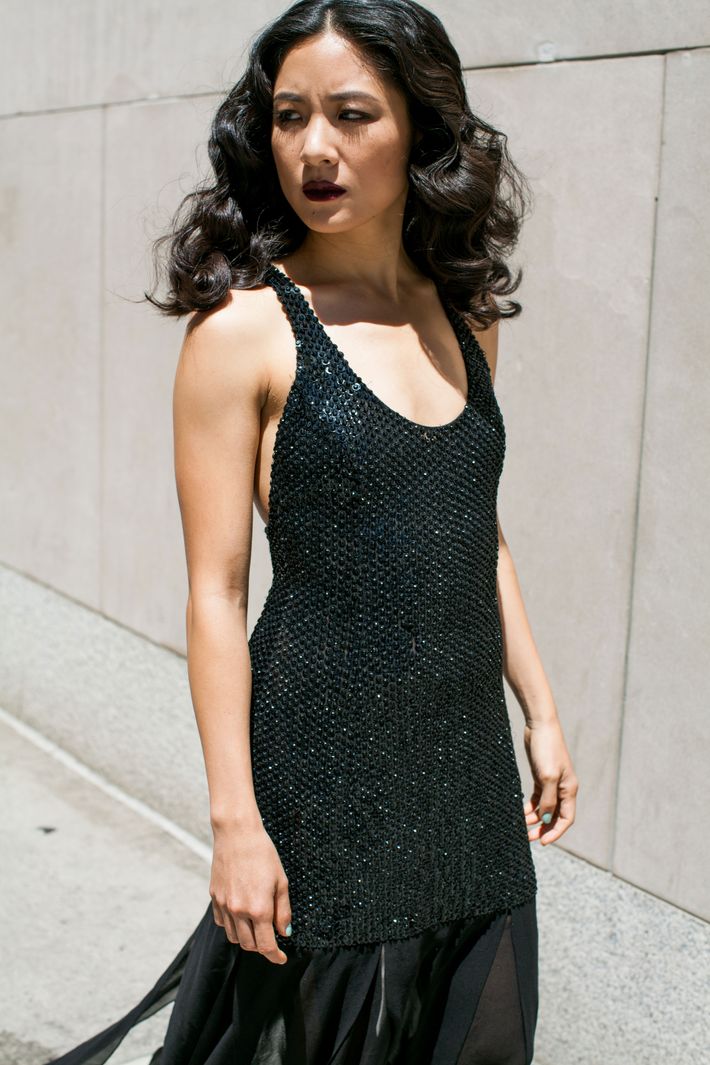 Michael Kors Collection dress, price upon request, Michael Kors.
And there you have one of the most refreshing things about Constance, bundled with one of the worst things about Hollywood. She's not afraid to speak out against racism, even as she's stuck working within a business that's rife with systemic discrimination against women of color: parts that only go to certain types of actresses, roles that are tightly defined by ethnicity, casting concepts that are so narrow that even someone with her talent won't be considered.
While she admits that it's incredibly rewarding to be an Asian American woman on one of the biggest television networks in the world, it's also bittersweet. "It shines a light on how invisible Asians were previously in the industry. The fact that one show makes a person excited! If you watch any show that stars white people, white people aren't coming up to them like, 'Thank you for showing my face on the big screen.' Because they see their faces in popular culture all the time and many different iterations of their face, whether they're the cool girl, the nerd, the hardworking girl, they get many things. We get one or two stories. So my biggest hope is that this gets the ball rolling in terms of different Asian American perspectives."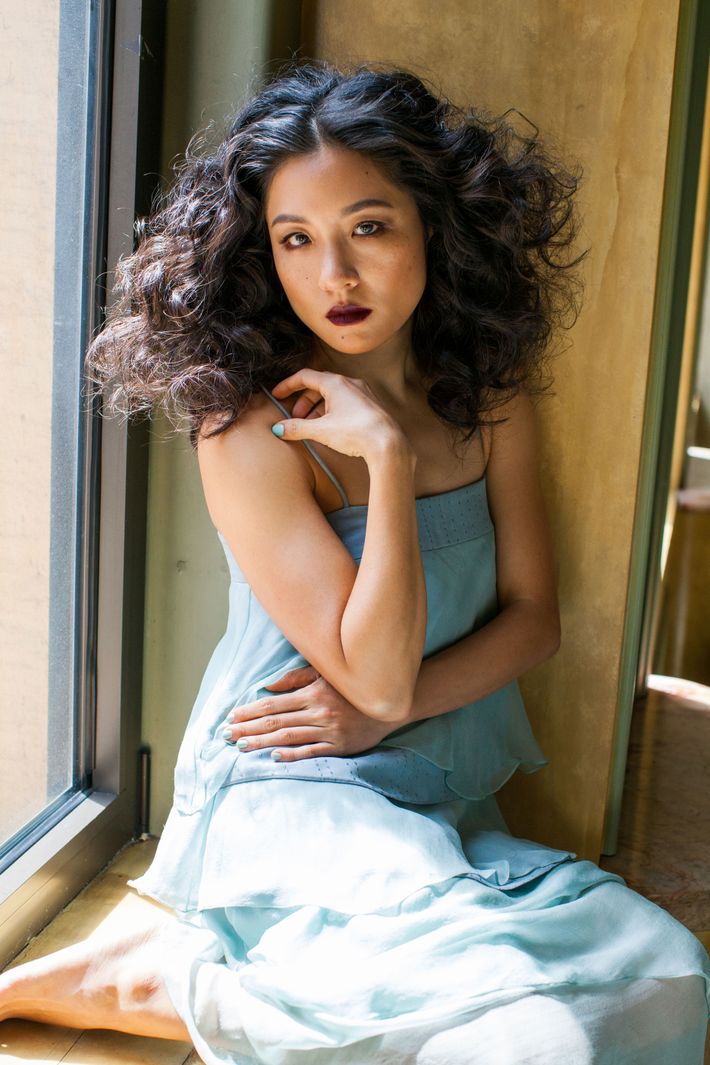 Giorgio Armani dress, price upon request, Giorgio Armani.
Jessica Huang is arguably one of the most hilarious characters on television right now, and her unapologetic attitude is almost infectious. "It's fun to play a character that gives zero fucks," she says.
But what really made her fall in love with the character was a moment of vulnerability. "In a flashback college scene of Jessica, one of her professors said some shit to her about how no one is ever going to try and remember her name, so she might as well change it. And it was so interesting to me, because I had never experienced that. But then doing that, it hurt to have that actor say that no one is going to remember your name, they don't care. And it made me realize: Oh, that's why a lot of Asian mothers are so tough — they've built an armor after years of being an immigrant and having people tell them they're less important. Just as they have had to build that armor that is 'I give zero fucks,' so did Jessica. And so for me it's fun not just to play her but to see the origin of that type of behavior."
As with Tracee Ellis Ross's character Dr. Rainbow Johnson on Black-ish, Constance's role as Jessica Huang on Fresh Off the Boat allows audiences to witness examples of racism and discrimination in a comedy setting. The un-preachy presentation helps viewers understand the subtle and unconscious biases that Asian women have been contending with for decades.
Constance adds that for her it's a hard thing to talk about because "Asian Americans have been traditionally seen as a 'model minority,' that because they may do well socioeconomically, then it's all good," she says. "But I think that's only if you measure personal happiness by financial success. You see on some shows that they think Asians are fair game for ridicule because they do okay. And I don't think that's true."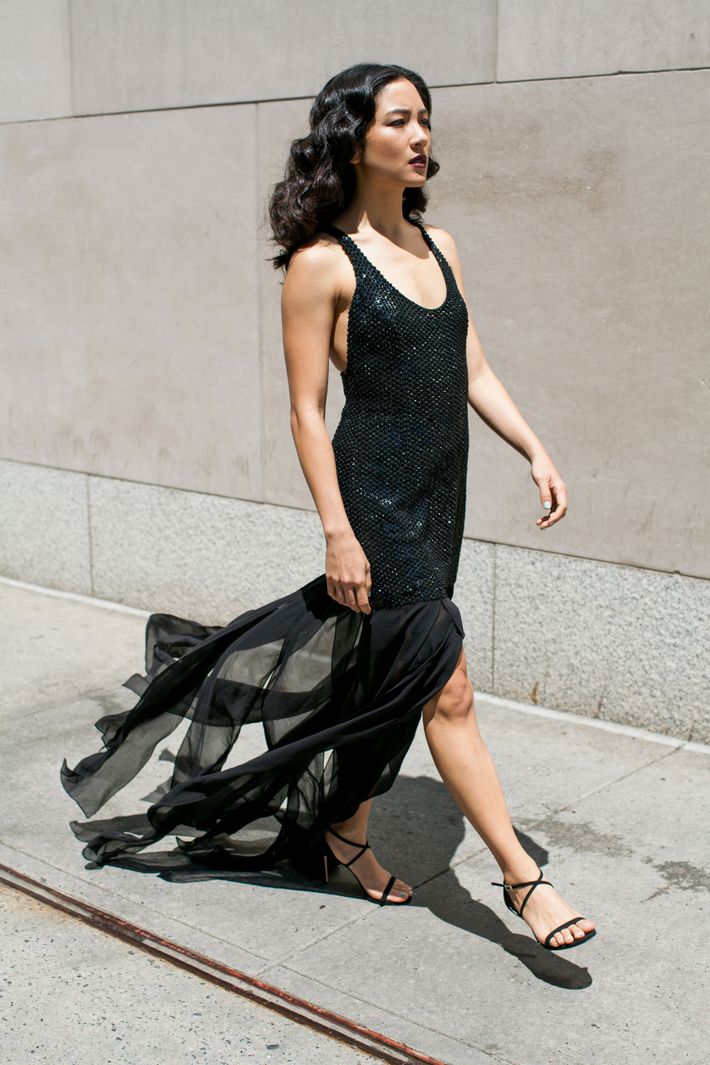 Michael Kors Collection dress, price upon request, Michael Kors.
In an effort to shake things up, she's developing a series about the Chinese Exclusion Act at the turn of the century. She readily admits that she didn't even know about the act until a couple of months ago — for a major historical moment, it's rarely discussed in history classes. "It's the only act of its kind that specifically banned any Chinese people from entering the United States. And the government only recently issued a formal apology. The series really explores that in the era and how Chinese people had the fortitude to turn a law like that into a type of survival."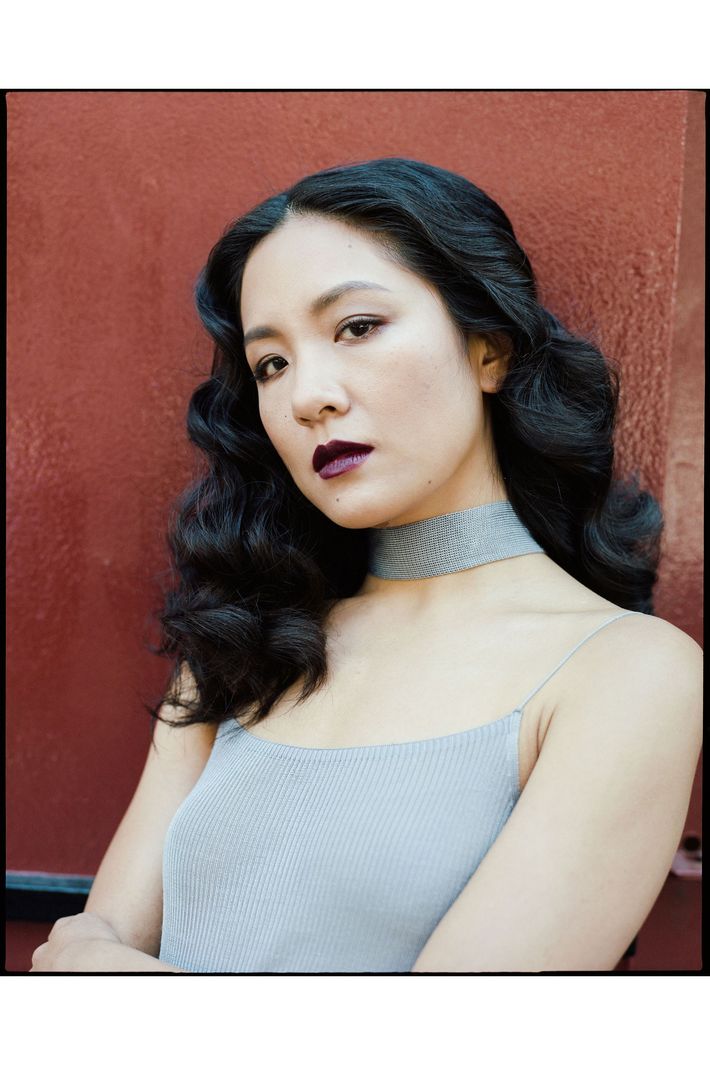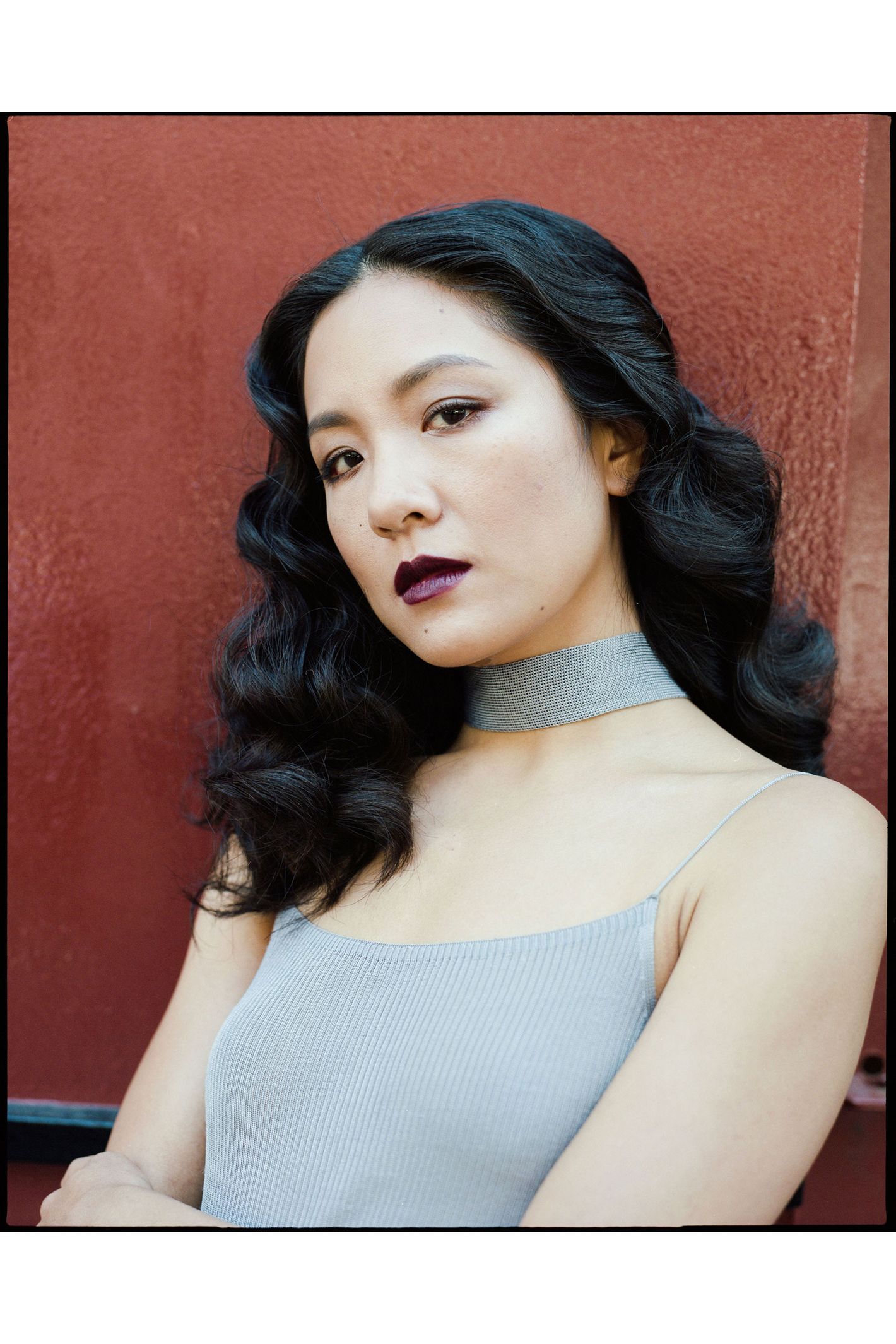 Acne Studios dress, price upon request, Acne Studios.
If this sounds like an unusual next step, it's in keeping with the career path she wants, as defined by mentors like Ang Lee, who's directed a range of work from Crouching Tiger, Hidden Dragon to The Hulk and Brokeback Mountain. She's inspired by Lee's refusal to be pinned down: "I go into so many meetings with executives, and they get defensive and give very lazy excuses as to why this white person is going to sell their movie even if they don't have a proven box-office-success track record. They will even just give an excuse like, 'Oh well, so-and-so just looks like a movie star, you just know they are.'"
I ask her the question I always find myself wondering: "Is it getting any better?" "It's barely getting better," she tells me. "Maybe because they're operating from a fear mentality. But I want other Asian Americans to have the opportunities, too. I don't want myself to be the only one who is getting stuff. So right now I want to do things that stretch and challenge me as an actor, as opposed to just taking the thing that catapults my fame."
Photos by Andre Wagner, makeup by Samantha Lau, hair by Lacy Redway, styling by Lindsay Peoples.