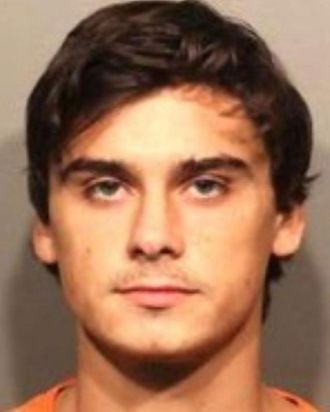 Wolfgang Ballinger.
Photo: Tompkins County Jail
A 21-year-old former Cornell University fraternity president was indicted by a grand jury on Thursday for allegedly sexually abusing* a woman in his fraternity-house bedroom. 
Wolfgang Ballinger, once a president of Psi Upsilon's Chi chapter at Cornell and the son of a millionaire nightlife businessman who owns New York's Webster Hall, is accused of sexually abusing* a woman earlier this year. At 2 a.m. on January 31, he allegedly brought her to his fraternity-house bedroom, locked the door, and forced her to have sex and oral sex, using his hands to sexually abuse her. The victim refused Ballinger's advances, according to court documents filed in February, telling him she was "not interested" and "too intoxicated."
Ballinger was arrested on February 4; charged with attempted rape, a criminal sexual act, and sexual abuse (all first-degree felonies); and held on $25,000 cash or $50,000 bond. Soon after the arrest, Cornell suspended Ballinger, banned him from campus, and placed the fraternity on an interim suspension. In court in February, Ballinger pleaded not guilty to the charges and was released on his own recognizance, meaning that instead of paying bail he could leave court with a written promise that he'd return for future proceedings. This week he was indicted on only one felony count of sexual abuse.*
Ballinger sued Cornell in May, claiming the university's administrative policies denied him a fair hearing and that investigators failed to examine DNA evidence from the alleged survivor, according to People. The suit alleged Cornell administrators have publicly characterized the school's judicial process as "unfair, flawed and changing within the next few months."
In May, People reported that while New York legislators last year mandated all universities give students accused of sexual assault a fair hearing, in which evidence is presented by both sides, Ballinger's suit claimed Cornell doesn't hold such hearings. It said the university still prevents accused students from seeing investigators' files and plans to update its policies in August. In an email to the Cut, a Cornell media representative declined to comment on the current status of the school's changing policies, because the case is still active.
Ballinger is from Ghent, New York, in the Hudson Valley, and was a student in Cornell's School of Hotel Administration. In a since-deleted video he posted to YouTube in December, Ballinger reportedly identified himself as a junior undergrad, Psi Upsilon's fraternity president, and said his father owns bars and nightclubs in New York and Canada. His dad is one of the four Ballinger brothers who restored and reopened Webster Hall in the East Village in 1992.
A Tompkins County Court clerk said his arraignment has been scheduled for Friday, July 22.
*This post has been corrected to show that Ballinger was indicted on only one felony count of sexual abuse.