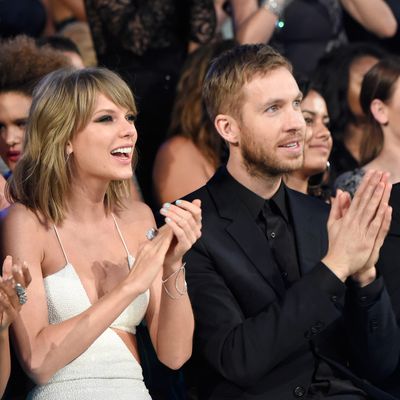 Taylor Swift and Calvin Harris.
Photo: Kevin Mazur/BMA2015/Getty Images
This morning, the normally pro–Calvin Harris tabloid TMZ reported something that Taylor Swift fans have been speculating about for weeks. According to "sources connected with" Swift, Swift actually wrote Harris's massive hit "This Is What You Came For," and Harris's behavior while promoting the song prompted her to break up with him.
We've learned an early fan rumor about the song is true, but to a deeper extent than anyone suspected. During their relationship, Taylor wrote the song, sat down at a piano and did a demo into her iPhone. She sent it to Calvin, who loved it.

They both went into a studio and did a full demo with Taylor on vocals and Calvin doing the beat. They both knew the song would be a hit, but Taylor wrote it for Calvin and both agreed it was a bad idea to let the world know they collaborated as a couple … it would overshadow the song.

So Taylor, who kept the publishing rights, used the pseudonym, Nils Sjoberg on the credits.
And then, apparently Harris fucked it up. On the day the song was released, Ryan Seacrest asked him on air if he would ever do a collaboration with his girlfriend. His response: "You know we haven't even spoken about it. I can't see it happening though."
According to TMZ's sources, "Taylor was hurt and felt Calvin took it too far."
A week later, Swift met Tom Hiddleston at the Met Gala, and the rest is tabloid history.
When Swift and Harris first broke up in May, sources claimed there was "no drama" between them and things just fizzled out. After Swift started kissing Hiddleston in front of paparazzi, Harris's camp suggested Swift got together with him before the breakup. But this — this is the breakup theory that makes the most sense. Swift values her business above all.