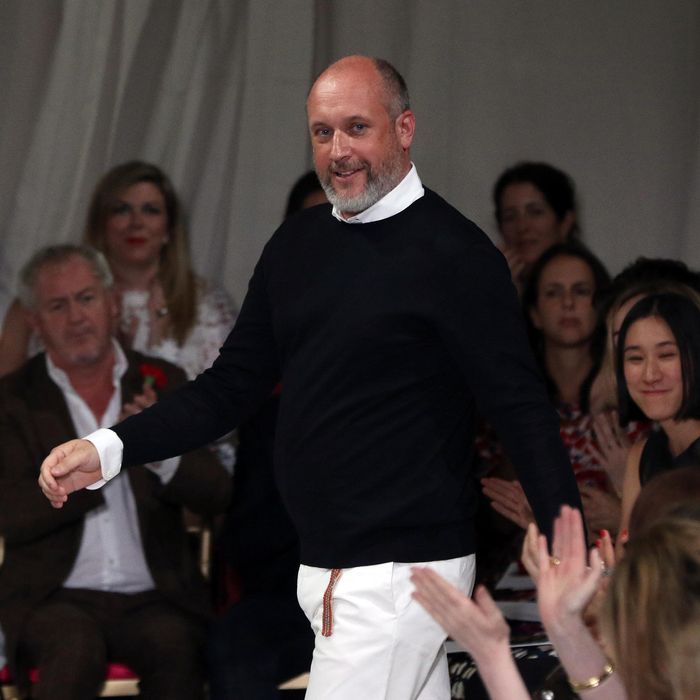 Photo: TREVOR COLLENS/Getty Images
Yet another major fashion house is experiencing a shake-up in leadership. Peter Copping, the creative director of Oscar de la Renta, is stepping down from his position, the company announced on Wednesday.
"After almost two years at Oscar de la Renta, personal circumstances require me to return to Europe," Copping said in a statement, according to the New York Times. "I have loved my time in New York where I hope to return at some point in the future." (Copping, who is British, previously worked out of Paris.)

The company did not name an interim director or successor to Copping. The spring 2017 show, slated for September, will instead be designed by an in-house team.
"We have always been in the business of creating beautiful clothes, and two of our greatest assets are our design studio and atelier," Alex Bolen, the company's CEO, also said in the statement. "Our team will continue to work on next season's collection with a keen focus on the level of sophistication and craftsmanship that are the hallmarks of the house. We wish Peter well in his future endeavors."
Speculation as to who might succeed Copping is already centered on Fernando Garcia and Laura Kim, Vanessa Friedman writes at the Times. The two worked under de la Renta but reportedly left after his death when they did not get Copping's position.

De la Renta had handpicked Copping as his successor in 2014, and he was set to transition slowly into the role. That did not happen, of course, due to de la Renta's sudden passing days later.
Copping had come to Oscar de la Renta after working as the artistic director for Nina Ricci and, before that, at Louis Vuitton under Marc Jacobs. Like de la Renta, Copping was known for his romantic designs and love of the feminine silhouette.

"We shared a lot of common territory," Copping previously told Vogue of his similarities to de la Renta. "The sort of woman we appreciate, and going beyond that, gardens, homes, all of that sort of thing: We speak the same language."
In his role as creative director, Copping reported to Bolen and set the design direction for the company's major product categories.
While his first collection for the company was lauded, his more recent showings have received muted responses. One source with the company told Women's Wear Daily that Copping's designs had struggled commercially.

Copping's departure also comes at a time when many of the storied fashion houses find themselves in transition with key leadership and design roles in flux.
Dior, Lanvin, and Balenciaga have all experienced recent changes in creative direction, and just today, rumors were also circulating that Nicolas Ghesquière might be leaving Louis Vuitton, though company representatives quickly squashed the rumor, saying he is under contract for two more years.
When de la Renta announced Copping's role in 2014, he said in a statement: "My hope is that, in leading this selection and actively participating in the transition, I can ensure the right design future for our company and brand."