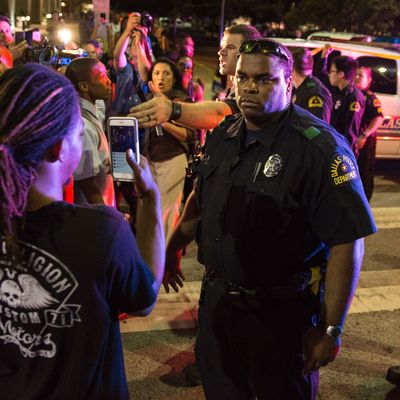 Photo: Laura Buckman/AFP/Getty Images
The sniper attack in Dallas Thursday night is a national tragedy. Five police were killed, seven more were wounded. Two civilians were wounded, too. The investigations thus far find that it was a single, military-trained man acting alone, one who reportedly said he wanted to kill white police officers. It's objectively horrific and heartbreaking (as have been the countless shootings, police-related or not, that have happened in the U.S. this year). To grieve is necessary. But to despair is not. While it's a quiet process, there are reforms in policing happening in many U.S. cities. Some — not all, but some — police departments are becoming less reliant on use of force, largely due to a bundle of techniques referred to as "de-escalation," and the the Dallas Police Department is playing a pioneer role. While it goes by different names, what we're seeing is the power of mindfulness — in the sense of being consciously aware of what you're doing — in life-or-death situations.
Since Dallas Police Chief David Brown (who's lost his son, brother, and former partner to violence) began his leadership of the department in 2010, arrests, excessive force complaints, and murders have all declined. As BuzzFeed criminal justice reporter Albert Samaha notes:
In 2009, the department received 147 excessive force complaints and made 74,000 arrests. Within three years, arrests were down to 61,000, and within five years excessive force complaints were down to 53. As the number of excessive force complaints and arrests declined, so did the city's murder rate, which reached its lowest point in more than 80 years in 2014, before ticking back upward in

 

2015.
In an interview with the Dallas Morning News in 2015, Brown said that the decline in complaints about use of force come from more regular, realistic training, greater community outreach, and an emphasis on "de-escalation," where police try to slow to slow the action down and avoid using force. Rather than running into a situation, take your time approaching a suspect, talk over a strategy with your partner. Have just one officer talk with a suspect — rather than multiple people shouting — try to build a rapport with with suspect. It's not just Dallas, the Morning News reported; excessive force complaints have also fallen in Seattle, Baltimore, and New York, among other major American cities. In Seattle, the New York Times reported last year, all of the city's officers are "taught to ask open-ended questions, paraphrase what a person has just said so that he or she knows the officer is listening, and make statements that connote empathy with the person's situation." If officers do those things, the reasoning goes, they'll have less of a need for force. Las Vegas has also emerged as a pioneer in de-escalation, with the department making a commitment to the "sanctity of life."
While these are certainly welcome results, what needs to be done to make de-escalation go from an emerging technique in policing — one many officers treat with reluctance — to a verified best practice would be to set up formal, independent studies (with a randomized control group) of a police force like Dallas. Without a rigorous methodology, there are too many variables — like citizens simply thinking it's useless to file complaints — to say what drives down excessive-force complaints. And officers don't necessarily want to abstain from using force, especially, you have to assume, after Thursday night's events.
From a distance, it appears that "de-escalation" prompts officers to shift out of automatic responses to tense situations (a technique which, by the way, has been found the reduce the incidence of violence in Chicago high-schoolers). It goes back to the formative findings of psychologist Daniel Kahneman about "system 1" and "system 2" states of mind. We live most of our lives in system 1, characterized by rapid, gut-level thinking and acting, and system 2, which is actively analytical. A body of psychology research finds that even the most progressive among us hold unconscious prejudice — including MacArthur "genius"-grant-winning work on how black faces prompt the perception of weapons — which may fuel the outsize use of police force against black men. But if well-meaning police officers learn to de-escalate – which seems like a good way to move from system 1 to system 2 – maybe those biases can be checked. While the data is imperfect, it sounds like that is what's starting to happen.