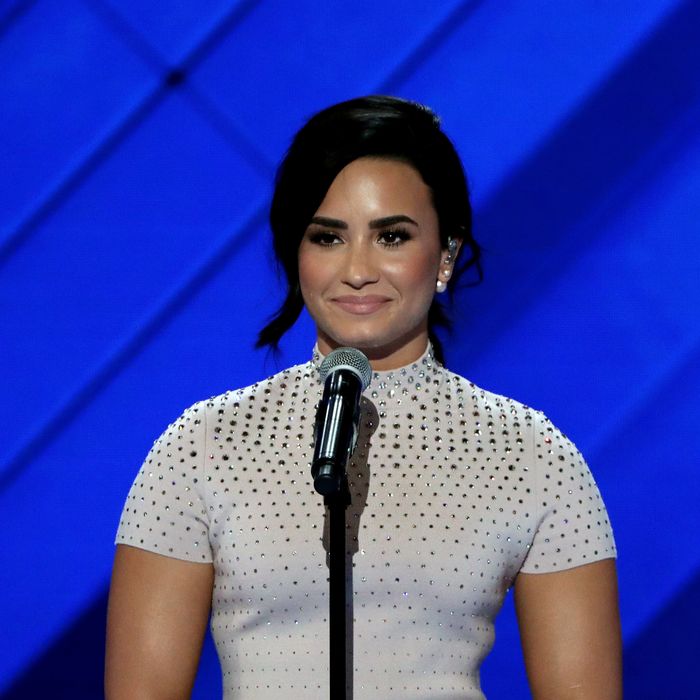 Photo: Alex Wong/Getty Images
Demi Lovato isn't the only celebrity who has signed on to speak or perform at the Democratic National Convention. But she was the first pop star to perform on the first night of the convention in Philadelphia.
And once onstage, Lovato took a moment to speak about an issue that's long been dear to her heart: mental illness.
"Like millions of Americans, I am living with mental illness," Lovato began her speech. "But I am lucky. I had the resources and support to get treatment at a top facility. Unfortunately, too many Americans from all walks of life don't get help, either because they fear the stigma or cannot afford treatment."
Untreated mental illness can be devastating, but every person can make a difference, Lovato said. She continued her remarks by urging politicians to support laws that offer better health care and treatment for those dealing with mental-health issues.

"It may not be a lot but we have to believe every small action counts," she said.
Over the years, Lovato has been very open about her struggles with addiction and bipolar disorder. Last year, she became the face of the Be Vocal mental-health campaign, which has campaigned on Capitol Hill to direct attention to the issue that affects millions of American.

"I stand here today as proof that you can live a normal and empowered life with mental illness," she told the audience. She ended her speech with a rallying cry of support for Hillary Clinton, who will officially accept the Democratic Party's nomination later this week.

Though other celebrities have spoken about their mental-health issues, Lovato remains one of the prominent pop stars of the moment and thus commands a large and young audience.
And while it's unlikely all of them watch the entirety of the hours-long convention on C-SPAN, they're likely to at least catch Lovato's speech.
After all, moments after Lovato performed "Confident," at the DNC, she had already retweeted a C-SPAN clip of her speech to her 37 million Twitter followers.