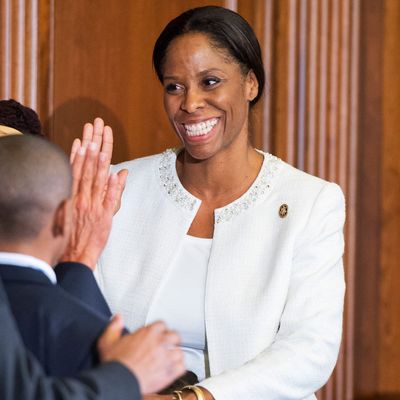 Representative Stacey Plaskett.
Photo: Tom Williams/Getty Images
A sex tape of Stacey Plaskett, the Virgin Islands' congressional representative, was posted online (and later removed) Wednesday night, according to Politico. Photos of Plaskett were also circulated online, as well as a family video that included one of her children. In a statement, Plaskett acknowledged that the photos were real and said her personal computer had been hacked.
"The theft and distribution of these personal images via the internet marks a new low in Virgin Islands politics," she said. "I am shocked and deeply saddened that someone would stoop to such a level as to invade my marriage and the love of my family in an attempt to besmirch me politically."
She went on, "As a mother I am outraged that one of my children was exploited in such a way. The theft and dissemination of these images via the internet is a shockingly disgusting invasion of my family's and my privacy — not to mention criminal acts in violation of both territorial and federal law."
Her office is reportedly working with the FBI and Capitol Police to investigate the hack.