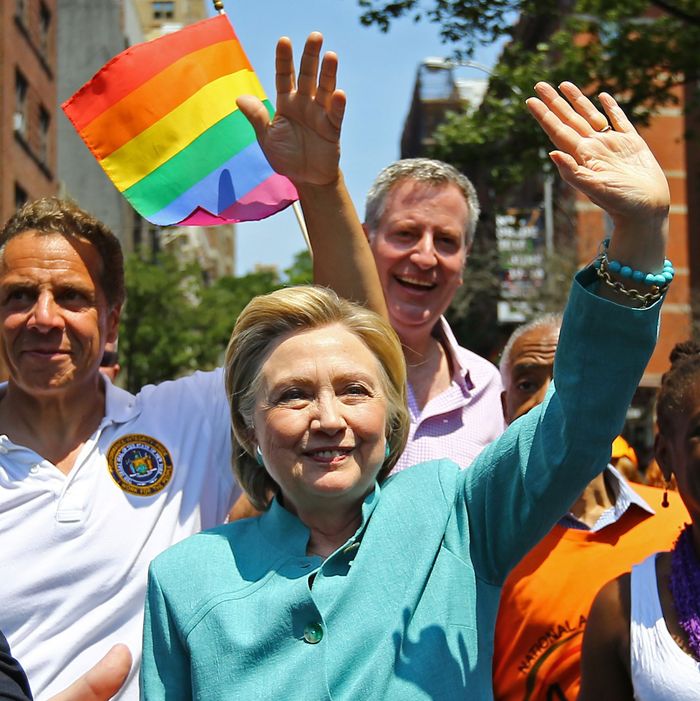 Hillary Clinton marches in New York's pride parade.
Photo: Anadolu Agency/Getty Images
Despite what their candidate's recent pseudo-inclusive sound-bites might suggest, last week Republicans adopted a historically anti-LGBT platform that seeks to overturn same-sex marriage and even recommends "conversion" therapy — a dangerous practice that psychologists have debunked. In contrast, Democrats this week are poised to adopt one of the most inclusive platforms in history that supports same-sex marriage, rejects so-called religious freedom laws, and promises to advance LGBT rights globally, among other things.
According to BuzzFeed, the first draft of the platform excluded many of these points — among them banning discrimination based on gender identity and sexual orientation. That draft was introduced at a meeting in mid-July, where "numerous delegates" reportedly advocated to expand the pro-LGBT planks. "I saw the first draft of the platform, and … I thought, 'This is how we can fix it,'" said one member of the platform committee.
Part of what makes this year's platform so inclusive is that it covers pretty much every aspect of the LGBT experience, from attending school to serving in the military to immigrating to the United States:
Democrats will fight for the continued development of sex discrimination law to cover LGBT people. We will also fight for comprehensive federal nondiscrimination protections for all LGBT Americans, to guarantee equal rights in areas such as housing, employment, public accommodations, credit, jury service, education, and federal funding. We will oppose all state efforts to discriminate against LGBT individuals, including legislation that restricts the right to access public spaces.

We support a progressive vision of religious freedom that respects pluralism and rejects the misuse of religion to discriminate. We will combat LGBT youth homelessness and improve school climates. We will support LGBT elders, ensure access to necessary health care, and protect LGBT people from violence— including ending the crisis of violence against transgender Americans. We will also promote LGBT human rights and ensure America's foreign policy is inclusive of LGBT people around the world.
It specifically addresses military service:
We are proud of the repeal of Don't Ask, Don't Tell and we commit ourselves to insuring fair treatment for LGBT veterans, including by proactively reviewing and upgrading discharge records for veterans who were discharged because of their sexual orientation. We are also proud of the opening of combat positions to women. Our military is strongest when people of all races, religions, sexual orientations, and gender identities are honored for their service to our country.
And it notes that "detention can be unacceptably dangerous" for LGBT individuals should they be stopped at a border. Democrats also promise to "continue to stand with LGBT people around the world, including fighting efforts by any nation to infringe on LGBT rights or ignore abuse," which, as The Advocate points out, is "a natural extension of that pledge made in Geneva."
The platform's historic provisions are thanks to a political climate that's slowly becoming more progressive. It's natural that a year after same-sex marriage was legalized nationwide, the Democratic platform would push even further. But this year's platform earned Clinton an endorsement from The Advocate, which called it "the most complete and impressive LGBT platform of any presidential candidate ever."