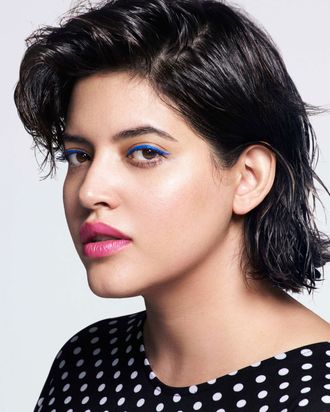 Denise Bidot, curvy beauty.
Photo: Christian Hahn
Denise Bidot's un-retouched body, cellulite and all, has gone viral. Since starring in a Swimsuits for All campaign and an accompanying sexy video with more than 2 million views, the Puerto Rican and Kuwaiti model has walked the runway for Chromat and Serena Williams's HSN line, and starred in campaigns for Forever 21, Levi's, and Target. On the set of our Curve Beauty shoot, Bidot talked with the Cut about how there is no wrong way to be a woman, feeling good in your skin, and her "aha" moment of body acceptance. 
How did you start your career? How did you get discovered as a model?
I actually moved to L.A. in 2005, and I wanted to be an actress. I would go out on all these Disney show auditions, and it was so easy to be yourself. Then I turned 18, moved to California, and was constantly being told that I needed to lose weight. I was like, "Look, I should be enough. Why is talent not enough?"
I did makeup for a plus-size model a month after I officially quit acting. It was just fate. The photographer was like, "Have you ever thought of modeling?" It may have been the one thing I never thought was possible for me. I'm short and chubby. Shortly after I shot the images with her, she started getting calls like, "Who is this girl? Who is she signed to? What's she doing?" I ran through the door and realized what an amazing opportunity it was.
Five years ago, I started getting messages from all these girls. Social media had put the power back in the consumer's hands. [Modeling] is a way to speak up, be recognized, and to be that person that I never had growing up.
Where do you see the Curve Beauty movement now?
We're at this amazing moment where all of those barriers that at one point segregated us are nonexistent. We're here, we've made our point, and we're being listened to. You're seeing an entire industry that was so secure in what they thought was right finally opening their eyes to something different. I never thought that I'd get to see it in my lifetime. To be a part of that change, to be able to show my daughter that she never has to grow up with insecurities.
I always say there's no wrong way to be a woman. C'mon, guys, we're women. We have enough battles in the world to not support each other, to not be rooting for each other. One step for one is one step for all of us. We don't need to say one is less than the other to feel validated. You're beautiful and you should feel good in your skin, and nobody should tell you otherwise.
We're here. We're shooting a beauty story. Why? Because why shouldn't we? It's exactly what we've been talking about for years. Plus models should be allowed to do beauty campaigns, hair campaigns, and everything that anyone else should be able to do.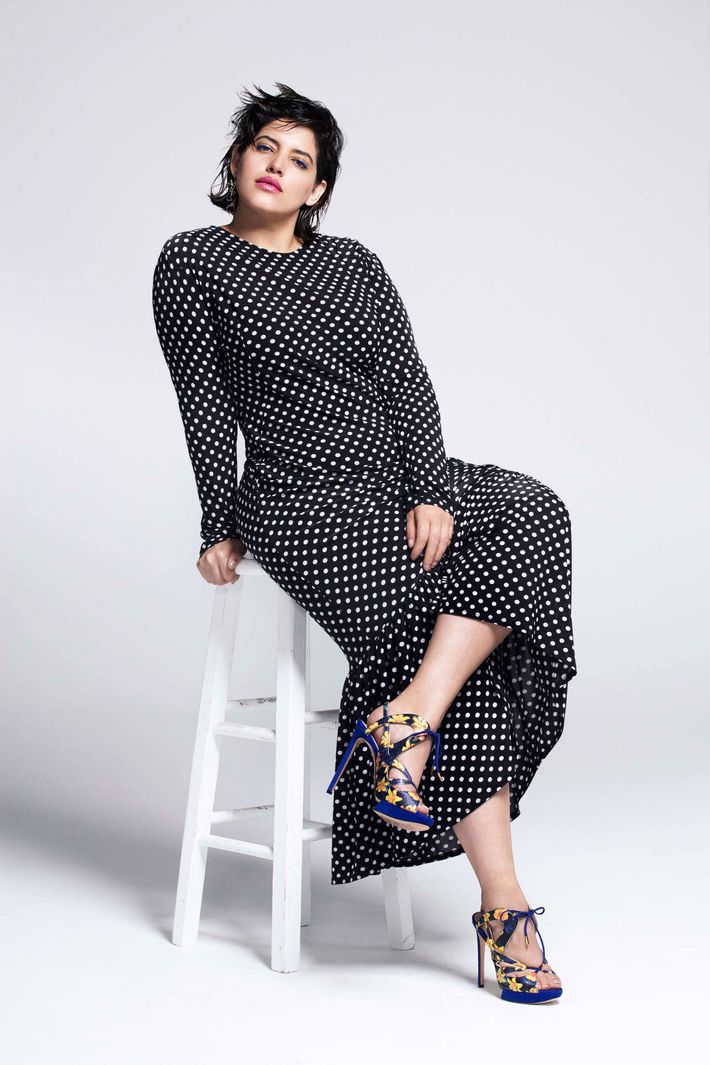 Do you feel like modeling has affected the way that you view your own body image and body diversity?
I've always been a bit of a rebel in that I didn't really care. I am healthy. I eat right. I work out. These are all things that you have to explain to people to understand that I was meant to be this way. My body feels comfortable at this size. This is where I always end up, no matter how much I try to diet. I'm a size 14. My butt is there, my curves are there, and there is my waist. This is my body; I love it, and I wouldn't change a bit of it.
I would be lying if I said that when I started modeling, I was super-confident. Something shifted. I started seeing myself the way people saw me. I always felt like the awkward little Latina girl from Miami. I would shoot with amazing photographers and they would be like, "Oh my God, this picture's so beautiful." The lens doesn't lie. When I started seeing what they saw and hearing the feedback, somehow it validated something inside me that I never understood. But when you believe, people believe. It took me a second to get it, but I'm so thankful that I ended up in this career. It seems crazy to have modeling build your self-esteem, but that's exactly what it did.
It's beautiful to feel confident. Don't we want everyone to feel that way, too? Many women don't ever get to feel what we feel on set. It's so much positivity and love and support from everyone, every part of the crew, at all times. Hopefully we can just keep pushing the message for the girls, keep getting them to understand that they're perfect just the way they are.
What are your thoughts on wellness?
My mother yo-yo-dieted a lot and was a single parent. We were that fast-food generation. I have a daughter, and I realize that what you take into your body affects your day-to-day activities. Eat right to feel good. Let's eat cleaner. Let's feel better about ourselves.
Maybe three months ago, I started having someone come and do meal prep for me, and she's doing all raw. Everything is the best-quality food. My mom came over recently, ate it, and she said, "Wow, I feel better." When you feel good, your mental health is good. And when you feel good from the inside, everyone sees you radiate. Wellness, mental health, physical health, everything is one big circle. Until you find that balance with all of them, you don't get to your best self. But it is a journey. It's not easy.
In my teenage years, I remember caring so much about what size I wore. Has there ever been a person who goes into your shirt or your jeans and checks what size you are? No! Why was I always trying to fit someone else? Why was I trying to be better for someone else? The moment that I started doing things for me is when things changed.
This interview has been condensed and edited.