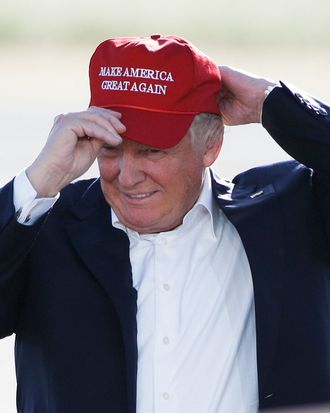 Donald Trump at a campaign stop.
Photo: Jae C. Hong/AP
Like Justin Bieber, Donald Trump wears his own merch. And the candidate's "Make America Great Again" hats — which play into the ongoing dad-cap trend — have become instantly recognizable, inspiring their share of fashion parodies. However, whether or not the American hat-manufacturing industry is included in Trump's plan for greatness is unclear. The Associated Press submitted Trump's chapeau to a microscopic analysis and found that the caps are assembled in Los Angeles, but not from the specific, American-made fabric the manufacturer claims. (That doesn't necessarily mean the fabric used is not American-made — the AP story does mention "how difficult and murky it can be to verify something is actually 'Made in USA.'" However, multiple sources within the manufacturer did tell the wire service that the fabric and bills were both foreign-made.) 
In response, Trump told the AP, "I pay a good price for that hat. If it's not made in the USA, we'll bring a lawsuit."
This is not the first made-in-USA fashion controversy that Trump has encountered. He has faced accusations that his Trump-branded collection of suits and ties are partially made in China and Mexico, though he said on Fox News that he was planning to move their production back to the U.S. His dad hats have also been endlessly knocked off, with cheaper made-in-China versions proliferating even among his supporters. "I don't know if they know," he admitted, which really says it all.