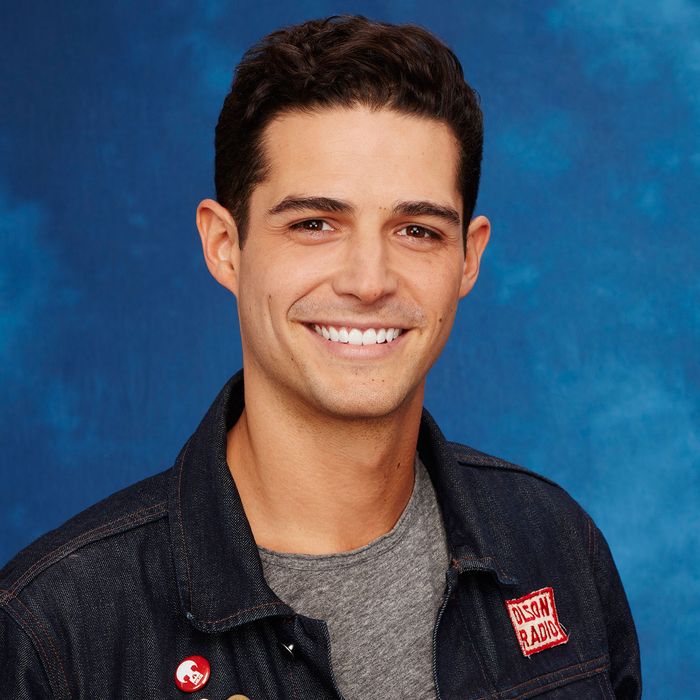 Wells Adams.
Photo: Craig Sjodin/ABC
Nashville radio DJ Wells Adams may not have been what JoJo was looking for on The Bachelorette this season, but what he lacks in swoopy hair and generic Douche Face, he makes up for in personality. Earlier this week, the former contestant posted a Snapchat video of him drunkenly recapping last week's hometown episode while crushing cans of Coors Light, and it has everything you could want out of a Bachelorette recap: bad puns, criticism of Jordan's hair, references to Blythe Danner movies, and a terrible Chris Harrison impression.
Choice quotes:
• "Chase, I like your mom's workout jacket, she's like Sporty Spice."
• "Chase, when you go talk to your dad, what did JoJo go do? She make a snowman?"
• "That one button on the bottom of Robbie's pastel shirt is holding on for dear life. For dear life!"
• "Jordan's making out in the library, in the romantic section. What's the Dewey decimal — the do-me decimal."
• "Everyone in the Rodgers family has this feathered, lethal windblown hair and it's beautiful."
• "Jordan your mom looks like Gwyneth Paltrow's mom from like, 'Meet the Fuckers.' Blythe Tanner?"
Invite Drunk Wells to all your Bachelorette viewing parties.