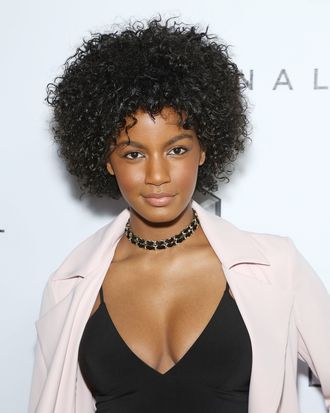 Ebonee Davis is calling out the fashion industry.
Photo: Manny Carabel/Getty Images
Model Ebonee Davis, who's one of the stars of Calvin Klein's 2016 campaign, has seen her share of racism in the fashion industry, and she's had enough. In an open letter to the fashion industry published in Harper's Bazaar, Davis says she received a photo of herself in the Calvin Klein campaign, "nostrils wide, lips full, hair defying gravity in all its natural glory," the same day she heard about the death of Alton Sterling.
"It was only then I realized the importance of the Calvin Klein image staring back at me," she writes. "Fashion, the gatekeeper of cool, decides and dictates what is beautiful and acceptable. And let me tell you, it is no longer acceptable for us to revel in black culture with no regard for the struggles facing the black community."
She goes on to recount stories of Fashion Weeks in which black models, who "make up less than 10 percent of models on the runway," "sit in silence for fear of being labelled 'a diva'" as hairstylists and makeup artists straighten their hair and try to blend a foundation that matches their skin tone. This, she says, is the same type of systemic racism that comes into play when a black man is killed by police.
"My advice to makeup and hair artists: rebuild your repertoire of techniques," she says. "Most importantly, love black people as much as you love black music and black culture. Until you do, society will continue to buy into the false notion that people of color are less than. The time for change is now." Read her full letter here.