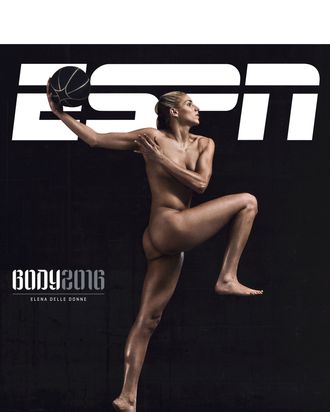 Elena Delle Donne.
Photo: Carlos Serrao for ESPN The Magazine Body Issue
Reigning WNBA MVP Elena Delle Donne has been very vocal about the sexism facing women athletes, clapping back at suggestions that people only watch them play or award them endorsement deals if they're hot.
So why did the six-foot-five Chicago Sky forward, and recipient of many a lewd Twitter come-on, agree to pose nude for a cover of ESPN the Magazine's eighth annual "Body Issue"?
After weighing the pros and cons with her family and her agent, Delle Donne decided appearing in the issue could help anyone who's insecure, like she once was. "It's such an empowering issue because it shows the different shapes and sizes of all kinds of athletes — this isn't a supermodel issue, you know?" she told the Cut. "It's not about being the perfect size, perfect shape, or having the perfect face or hair. It's about the work, the time, and energy that we put into our bodies, and how empowering that can be to an everyday person. They're like, 'Hey, that athlete, she's really tall. That one is a little thicker.'"
Being tall is obviously a great asset for a basketball player (and, yes, she can dunk on a ten-foot rim), but it wasn't much fun growing up. "When I was younger I got bullied about it. My height is something that I kind of had to come into, and now I absolutely love it," she says. She's not exactly thrilled when people feel the need to gawk out loud, though.
"Somebody will come up to me daily and be like, 'You are SO tall.' And I'm like, 'Thank you, if you didn't tell me that I never would have known.' For some reason, height is a trait that people don't think twice about calling out, and as a kid that was really difficult for me," she said. "Now I'm used to it, but it does get annoying."
One thing that helps mitigate the comments? Her Great Dane, Wrigley. "My dog is so big that people call his height out before mine, so I think we work really well together."
Off the court, Delle Donne has started making custom wooden tables on her roof and selling them online. She says woodworking is a nice distraction from the grind of making her body "the best machine" it possibly can be.
"It's been therapeutic, to be honest," she said. "Coming home from a rough game, I absolutely love going up to my rooftop on a beautiful day and building tables. It's just me and the table, and I really don't think about any of the basketball stuff."