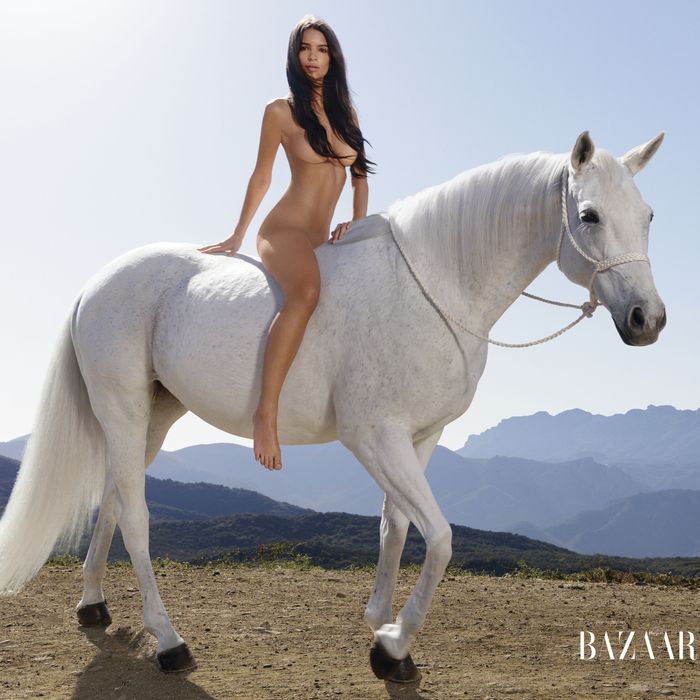 Emily Ratajkowski on a horse
Photo: Mona Kuhn/Harper's Bazaar
In this month's Harper's Bazaar, Bernie babe and generally smart, cool person Emily Ratajkowski flies the flag for third-wave feminism by posing naked atop a white horse. Admittedly, the shoot can't have been easy on her vagina, but hey: Isn't body positivity worth some moderate-to-severe inner-thigh chafing?
But Ratajkowski's nudity is, as always, more than a mere equine thirst trap. In a far-ranging and interesting conversation with feminist author Naomi Wolf, Ratajkowski talks about her topless selfie with Kim Kardashian ("A selfie is a sort of interesting way to reclaim the gaze, right?"), body shaming, and why being beautiful really is hard.
On sex positivity:
"Sex is normal. Desire is normal. Attention is normal, and that's okay. That's really what slut shaming is, right? You talk about this in your book Promiscuities. A woman talks about having sex, and it's like, well, a guy got to have sex with you, so you're stupid. You've given something up."
On being objectified from a young age: 
"I genuinely hit puberty before everyone. So I really was more sexual than my classmates. My teachers, my boyfriends, my parents' friends didn't understand how complex it all was. Because of third-wave feminism, I understood that there are all of these fucked-up ideals of beauty put on young women; that there was something to be scared about in the entertainment world. But yet the people I knew in my everyday life, they (didn't realize) their faux pas, their missteps, and since they knew me it was much harder because the comments felt personal."
On her naked selfie with Kim and owning your sexuality:
"You know, when Lena Dunham takes her clothes off, she gets flack, but it's also considered brave; when Justin Bieber takes off his shirt, he's a grown up. But when a woman who is sexual takes off her top, it plays into something."
On rejecting the ideal of the perfect body: 
"The world should not be exclusive of the ideal body. It has to include all ideals, all bodies. The whole idea is that when Kim takes a nude selfie, she's just seeking attention. That's not the issue. A woman can be seeking attention and also make a statement. They don't need to be mutually exclusive." 
A horse is a horse is an empowering political statement, of course!