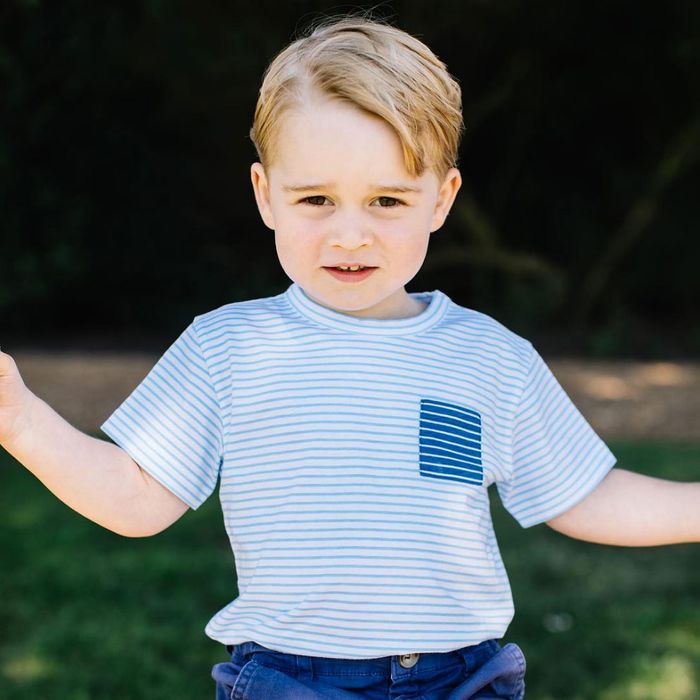 The tiny prince!
Photo: kensingtonroyal/Instagram
Prince George turns 3 today! In his three very posh years of life, the tiny royal has become a fashion icon while rivaling North West and Blue Ivy Carter in international stardom. Herewith, a brief history of his many achievements.
Year One
Birthday: July 22, 2013. A global news event! As unofficially announced by a fabulous self-appointed town crier, the little prince is born weighing 8 pounds, 6 ounces at St. Mary's Hospital in London.
For his first public appearance, he wears an Aden + Anais swaddling blanket that quickly sells out in the U.K. Soon his birth certificate reveals an officially long, royal-sounding name: Prince George Alexander Louis of Cambridge. His parents' names on this sheet of paper stir the most controversy: They list their jobs as "prince" and "princess."
For his christening at St. James's Palace, George sports a custom-made white-silk christening robe by the Queen's couturier, Angela Kelly, and succeeds in making everyone eat two-and-a-half-year-old cake, which was in fact a tier from Kate and Will's wedding cake. Gross?
Other highlights: He gets a bulletproof Bentley with a Champagne cooler and Wi-Fi (leased by his parents and Prince Harry), plus his first marriage proposal, from an 11-month-old girl, in the form of a MARRY ME GEORGE onesie. Romantic!
He is consistently so well-dressed (in baby-blue sweaters, Annafie sailboat rompers, Bonpoint onesies) that the New York Times soon declares him a style icon. Just before his first birthday, he lands his first very chic Vanity Fair cover.
Year Two
July 22, 2014: A rocking horse from Barack Obama for your birthday? Of course! Continuing to wear long socks and Peter Pan collars, George welcomes baby sister Princess Charlotte to the family. He wears baby Crocs that spark a national craze (as in, a 1,500 percent sales surge) and is as gloriously Instabasic as you are in casual family photos shot by Mario Testino.
Year Three
July 22, 2015: What a life! The tiny prince wears an even tinier backpack for his first day of preschool, and demonstrates his precocious appreciation for art by pausing to examine a mural en route. This year, for fun, he gets a vintage car (extracted from a museum) that can speed up to 20 miles an hour (!). It's the same mini Aston Martin V8 Volante from his dad's childhood and presumably a nice accessory to his £100 toy tractor.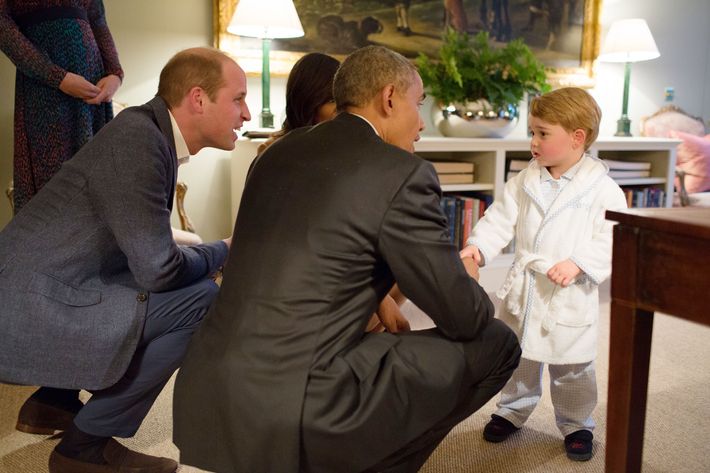 As the most posh member of his royal generation, Prince George soon can't even bother to wear pants for Barack Obama. He shakes the president's hand just before bedtime in the world's smallest monogrammed bathrobe (surprise: it sparks a shopping frenzy!) and plane-embroidered slippers. During this visit to Kensington Palace he also throws out some more sass, making Prince Harry blush in front of the Obamas: "Uncle Harry, why are you so quiet?" he repeatedly asked, as recounted by Michelle. "So embarrassing," Prince Harry later said, explaining he's normally throwing the tiny prince around the room. Wild, fun uncle Harry!
Other fun facts: George made a cameo appearance in a Winnie-the-Pooh coloring book and dreams of becoming an air cadet.
Can't wait to see the royal hijinks year four brings.