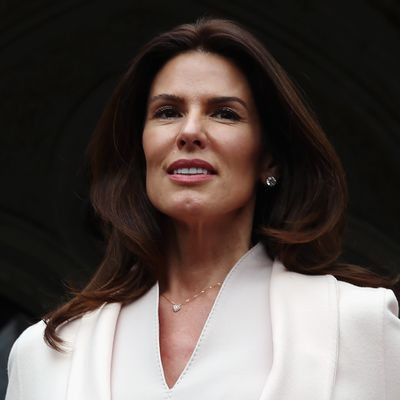 Photo: Dan Kitwood/2016 Getty Images
There are messy divorces, and then there's the divorce between former Pirelli model Christina Estrada and billionaire sheikh Walid Juffali.
Estrada and Juffali were married for 12 years and have one daughter, but reports differ slightly as to what split them up. Estrada stated, "He took both a second wife and divorced me without my knowledge," which is a pretty brutal way to dump someone.
On the other hand, the Daily Beast reported, "Mr. Juffali and Ms. Estrada split after Juffali married a young Lebanese TV presenter, without getting divorced first. He is permitted to take four wives under Islamic law, and made no attempt to hide the nuptials which took place in November 2012 in Venice, in front of hundreds of guests, including the rapper Akon of 'Don't Matter' fame." Ouch.
If that wasn't messy enough, Juffali became a diplomat for St. Lucia after the divorce was under way, which meant he had diplomatic immunity from testifying in his own divorce case. According to Estrada's official statement to The Guardian, "His use of diplomatic immunity to try and prevent me from access to a legally binding settlement set a worrying precedent."
Estrada's final settlement was a lump sum of £53 million, or approximately $69 million, and that doesn't even include her own assets. Her initial request included £1 million per year for clothes, plus cash to keep a home in London and a country home in Henley-on-Thames, as well as three cars in London and two in the U.S.
As the ex-model declared in court, "I am Christina Estrada. I was a top international model. I have lived this life. This is what I am accustomed to. It is difficult to convey the extraordinary level of luxury and opulence we were fortunate enough to enjoy."
The BBC detailed just some of that opulence, and, well, who wouldn't be hard-pressed to give up private charter jets and their quaint, multilevel "iceberg chalet" in Gstaad, Switzerland, or £10,000 for entrance to Elton John's annual White Tie and Tiara Ball?
Including Estrada's own assets, she'll be taking home about £75 million from the divorce.