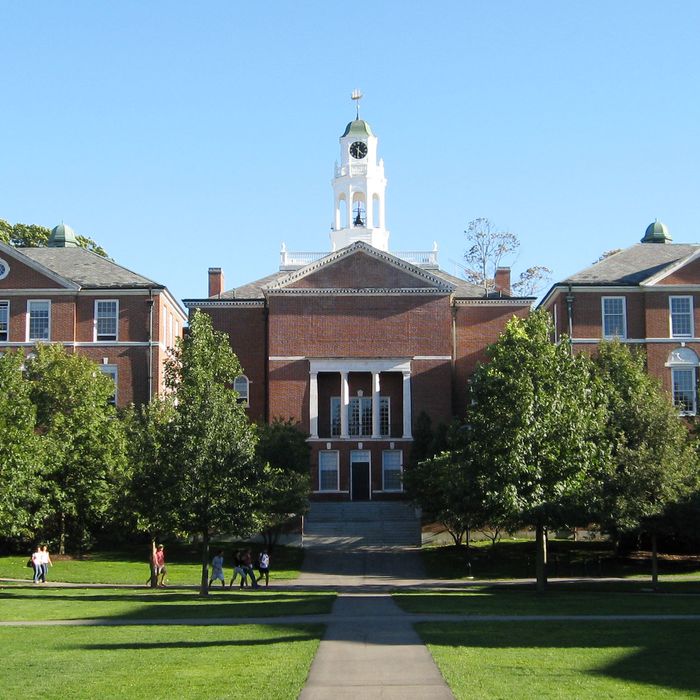 Phillips Exeter Academy
Photo: Courtesy of Wikimedia Commons/Transmarinus
Thanks to a recent report from the Boston Globe, we know that allegations of sexual abuse and harassment are outrageously prevalent at New England's private schools — among 67, more than 200 students have accused private-school authorities of sexual abuse or harassment over the past 25 years. At least 90 have filed lawsuits, and at least 37 administrators have been forced to resign. But one school — Phillips Exeter Academy in New Hampshire — is under fire for mishandling a student's claims that she was assaulted by a fellow student.
Instead of going to the police when 17-year-old Michaella Henry told them about an assault that had occurred in a church basement in December, school officials convinced her to meet with the school's minister, Reverend Robert Thompson, and her assailant, Chukwudi "Chudi" Ikpeazu, to talk things out. Ikpeazu confessed to his wrongdoing and — to make up for forcefully touching Henry under her clothing — agreed to deliver bread to her dorm room once a week. 
"I thought you would be amused to learn that Michaella extracted an act of penance from Chudi," Thompson wrote in an email to another school official. "Young Mr. Ikpeazu agreed to the penance without much resistance." (Thompson is a Phillips Exeter alum.)
Later, A.J. Cosgrove — the dean of residential life — tried to reassure Henry by telling her, "The good news is you don't have to report this to the police because there was no penetration."
This isn't the first time the school has been accused of mishandling sexual harassment charges. Back in March, the Globe wrote that Rick Schubart, a much-lauded faculty member, admitted to having a sexual relationship with two students decades earlier. After staying quiet for years, the school was forced to ask for Schubart's resignation. 
Exeter's principle, Tom Hassan, was censured by the Association of Boarding Schools for not disclosing Schubart's behavior before the organization gave him a leadership award. Then the school fired Steve Lewis, a teacher who also confessed to past sexual encounters with students, and a wave of alumni came forward to disclose other instances of sexual assault. "Our hearts go out to anyone who has been mistreated and is suffering from that experience," the school said at the time.
Henry eventually went to the police, and Ikpeazu was arrested in early June; he'll be arraigned in July. "It's ridiculous that a student follows the rules, makes a report of sexual assault to the school, and is then rebuffed and demeaned and subjected to institutional bullying," one Exeter graduate told the Globe.