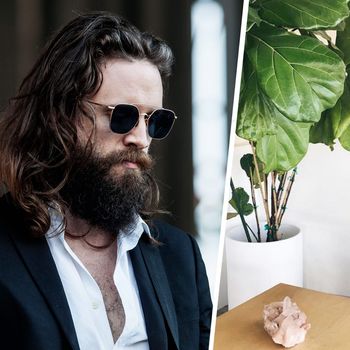 LA, man
Photo: Getty; Courtesy of Instagram/moonjuiceshop
Please keep Amanda Chantal Bacon, the founder of L.A.-based juicing brand Moon Juice, in your thoughts and prayers as she has suffered a tremendous loss: Her beloved rose quartz crystal was stolen from her Silverlake shop and no amount of Shilajit resin, Kundalini meditation, or chia-pudding consumption with her son Rohan (age 3) is going to help.
In an Instagram post complete with a light threat, Bacon writes, "PLEASE RETURN THE CRYSTAL! … To whomever took her out the door, you do not want the energy of a stolen crystal, please trust me!"
Yikes! Who dares knock Bacon's chakras out of balance so senselessly?
Well, unofficial L.A. mascot Father John Misty would like you to believe that he was responsible for the crime. In an Instagram caption, he writes:
There's been, understandably, a not insignificant outcry regarding the alleged "theft" of the rose Quartz crystal from the Echo Park Moon Juice™, pictured above. I am here to claim responsibility, though I do not condone the rhetoric employed in Moon Juice's post. To claim that "something has been 'stolen'" is in tself a tacit endorsement of the capitalist values that blended superfoods and locally sourced produce stands, ironically, in direct opposition to.
And he didn't miss the golden opportunity to drag Bacon's $12 juices:
Also your smoothies are inconsistent to say the least but largely impossible to steal so that is an injustice that I must face, and I accept with an open heart knowing that each watery gulp is an invaluable teaching moment.
Misty is almost definitely doing some highly-specific trolling, which means that the crystal thief is still on the loose. A pox and a mouthful of high fructose corn syrup on their house!