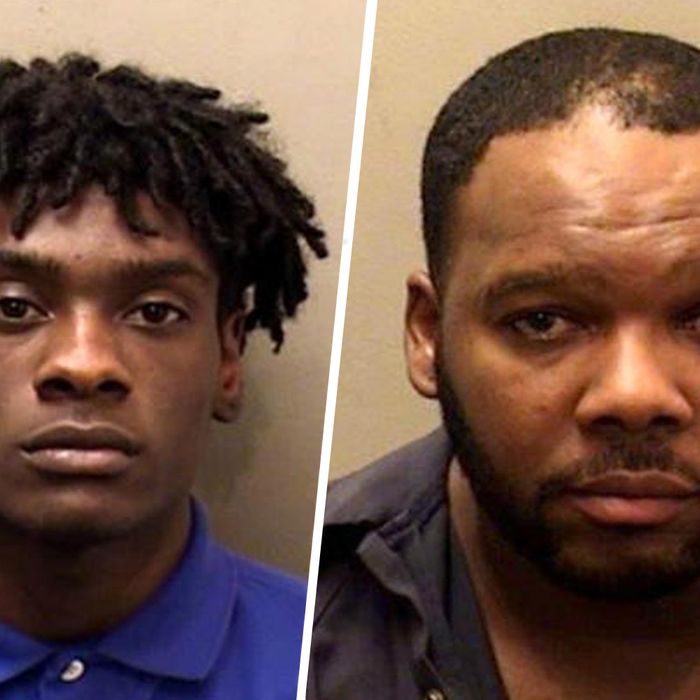 Shawn Childs Jr.; Shawn Childs Sr.
Photo: Courtesy of McLean County Sheriff's Office
A father and son have been accused of orchestrating a sexual assault during an orientation session at Illinois State University in Normal, Illinois — specifically, Shawn Childs Sr. allegedly drugged an incoming student so that Shawn Childs Jr. could rape her.

The Chicago Tribune reports that the incident is said to have occurred the evening of Tuesday, July 19. According to First Assistant State's Attorney Adam Ghrist, Childs Sr. joined the students at the residence hall where they were staying during the two-day orientation session, then went out to buy alcohol for the group. (Parents don't stay in the same dorm as students.) The victim alleges that when he returned, she saw Childs Sr. put a pill in her drink, which she consumed.
She says she began to feel ill and retreated to her room, but Childs Jr. followed her and raped her twice. She brought her allegations to the police the following morning, and Childs Sr. and Childs Jr. were arrested as they were waiting to board their train back home to Chicago.
Childs Sr. was discovered to have 22 ecstasy pills in his pocket, and is facing charges of possession of a controlled substance with intent to deliver. Childs Jr. has been charged with four counts of criminal sexual assault and told the police that the victim was "messed up" when the alleged event took place.