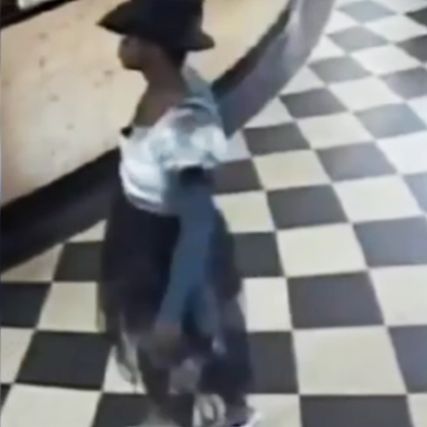 Photo: Courtesy of Youtube/Staten Island Advance
This week's stylish bank robber (there are in fact quite a few of them) is a cross-dressing man who robbed a bank while looking like an actual Disney princess. Now the FBI and NYPD have joined forces to find him.
The man glided into a Staten Island bank Monday afternoon wearing an ambitious outfit: a silver crushed-velvet dress with tulle skirt, silver kitten heels, Jackie O sunglasses, and a black sunhat. He flashed a matching silver gun and took $780, reports the New York Times. His post-heist activities were more casual: He walked to a neighboring convenience store, changed clothes in the back, and emerged as a poster child for summer athleisure in plaid shorts, Nike Jordans, and no shirt.
A store employee watched the transformation but didn't think anything of it at the time: "He just started changing," he told the Times. "I thought he was like a cross-dresser."
Now the robber is on the run: An FBI-NYPD Joint Violent Crimes Task Force is asking for help identifying the man and offering up to $5,000 for tips leading to his arrest. Investigators have said he is dangerous and armed.
Police found the ball gown in the trash.