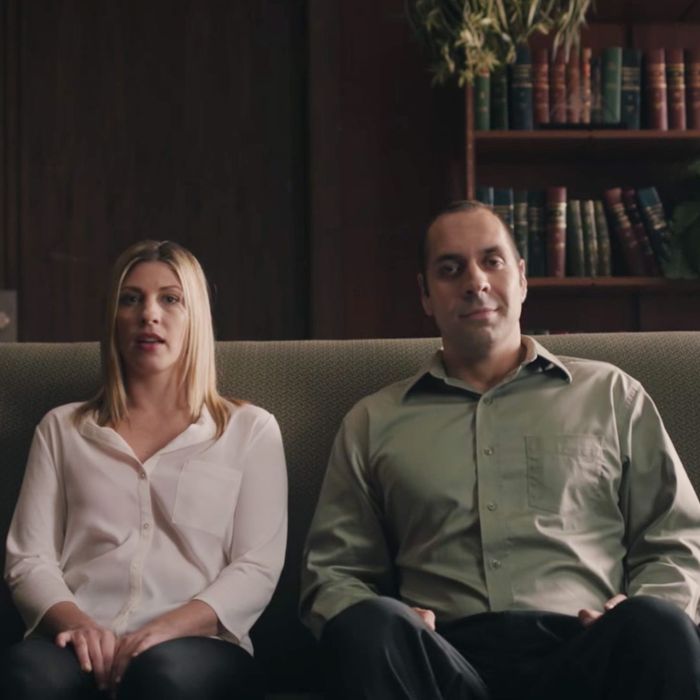 Ashley Madison will save you!
Have you ever been afraid of living a sad, loveless life — maybe suffering through a failed marriage or two — and dying alone in your poorly lit one-bedroom apartment? If so, don't worry — Ashley Madison is here to save you. The infidelity site is trying desperately to rebrand after a near-fatal hack (its parent company, Avid Life Media, just changed its name to Ruby to sound more feminine), and that's the premise of its first-ever TV ads, which are set to air this week.
"This is the start of a journey," the company's CEO, Rob Segal, told Mashable. "We feel like we're setting the right tone here, but we're hoping to build trust in the long-term."
The new ads feature three sets of white, presumably heterosexual men and women gazing longingly at each other in a hotel lobby, on a subway, and in a restaurant. The first follows a blonde woman who's unhappy in her marriage … until she's handed an envelope prominently labeled "conference tickets" and meets a silver fox at a hotel check-in desk.
The second is about a sad man who eats jam toast and rolls his sleeves meeting another blonde on the subway.
And in the third, a couple (of which only one-half is blonde) meets a cute redhead waitress and makes eyes at her just as the background singer says, "The ones, the twos, the threes." Coincidence?
Putting aside the fact that prolonged subway stares almost never work (I've tried), the new ads — along with Segal's use of phrases like "open-minded experiences" and "exploring moments" — are basically a ploy to make infidelity look less like infidelity and more like that depressing moment in a rom-com just before the guy meets the girl.