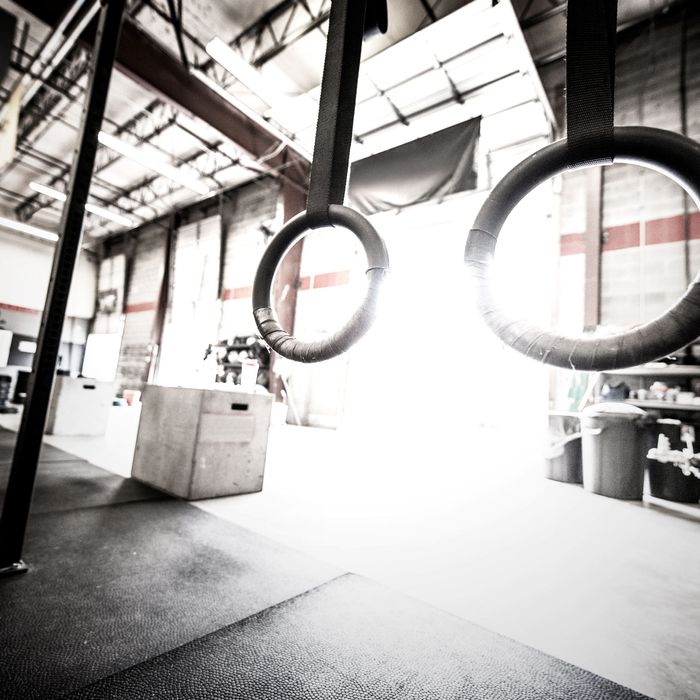 Photo: Cultura RM Exclusive/Corey Jenkins/Getty Images
New York's Sex Diaries series asks anonymous city dwellers to record a week in their sex lives — with comic, tragic, often sexy, and always revealing results. This week, a 28-year-old PR director who pretends to see a trainer at lunch: in a relationship, straight, LES. 
DAY ONE
5:00 a.m. Alarm goes off; I am out bed and dressing for the gym like a zombie. Within ten minutes, I'm out the door. Working out is very important for me — I was really fat at one point in time, and my transformation has left me with a debilitating fear of gaining any of the weight back. This has resulted in a strict diet and daily workouts.
8:00 a.m. On my way to the office, Juice Generation Supa Dupa greens in hand. I'm a PR director in NYC, and I take my job very seriously. I'm a complete type A and my staff describes me as ruthless (they think I can't hear them gossip). Everyone is scared of me, and to be honest, I prefer it this way. Work friendships are not something I'm very interested in.
9:30 a.m. I answer a text from Jack. Jack is my boyfriend of two years. We just moved in together, and I couldn't be more excited about it. He cares about me, supports me, and showers me with compliments. He has a great job in finance and doesn't care that I am career oriented and a bit of a workaholic. I could see myself growing old with him, and when he's not around, I miss him so much. Text reads, "Slept through my morning kiss — make up for it later. Love you (kissy face emoji)." I respond: "You better (winky face emoji)." I dive back into work.
10:00 a.m. to 12:00 p.m. We are repping a new boutique dance fitness program, and all the girls who work for it are smoke shows. I feel completely inferior to them in our meeting (they all show up in workout gear, of course). In between meetings, I think of Jack, our life, our new apartment. (A great two-bedroom in LES with a private roof. I'm obsessed — joint income is a beautiful thing!)
12:00 p.m. Everyone thinks I leave two-three times a week at noon to meet my personal trainer. Some weeks, this is actually what happens. However, sometimes I meet Devin. I met Devin on Tinder after a bad breakup four years ago and quickly fell into a casual routine with him. He's funny, laid-back, and I found his aggressiveness painfully sexy. It was by no means a great love story, but he was great at making me come and was pretty fun to be around. We stopped seeing each other once he got serious with someone, but he called me out of the blue last fall to ask me to lunch for some free PR advice (he runs a marketing company). He was sexy and came onto me hard. After four martinis, we ended up fucking in the handicap bathroom of the restaurant. That was how it all started, and it hasn't slowed down since.
12:15 p.m. Arrive at hotel to meet Devin. I know, you all think I'm garbage. I have given this a lot of thought, and I don't think you can get everything you need from one person. I love Jack, but he fucks me very gently and isn't aggressive at all. I need aggressive sex. I crave it — I would never want to hurt Jack and tell him he doesn't satisfy me that way. I love him and I want to be with him; I just crave something dark and dirty I know he will never be able to provide. Devin is my outlet for all of that, and after I see him, I just feel more … relaxed. Love is separate from fucking: a theory I stand by.
12:20 p.m. Enter and immediately get pushed up against the wall and kissed hard. Before I know it, his hands are up my dress, underwear is ripped, and he's inside me. He chokes me and calls me a cunt and whore while he bites my neck when he fucks me from behind. He pulls out and comes on my face. I love it. I feel sore, satisfied, and rejuvenated all at the same time.
12:50 p.m. We shower together and catch up about life. His girlfriend is driving him crazy (they have just moved in together, too), and she requires a lot of attention. She also hasn't been putting out much. I tell him of my co-habitating bliss; he's happy for me. We dry off, and he insists on getting us an Uber back to our offices (can claim it was an Uber Pool ride if spotted together). We head off to rejoin our days; he sends me out of the car with a smile and wink. I feel at peace after I see him.
1:30 p.m. Back at work — picking outfits for the dancers to wear at an upcoming photo shoot. Painfully envious of their abs and asses, which you could bounce quarters off.
8:00 p.m. I've got plans for dinner and drinks with Jack: I change in my office out of the all-black shift dress I wore to work. Powerful yet sophisticated is the air I go for at the office — which is hard, since I have 34DD breasts. I have cleavage even in a turtleneck. I put on white skinny jeans and a low-cut blouse with pumps and head out.
8:15 p.m. Arrive at Bowery Meat Company to find Jack already seated at a table. He gets up, tells me I look stunning, and we kiss. I tingle.
9:45 p.m. Dinner was amazing — I always laugh so much with him. We hold hands all meal, then pay the check and head out.
10:45 p.m. We're home and in bed, making out and snuggled up. Jack says he's too full from dinner for sex; we fall asleep in one another's arms. I am happy.
DAY TWO
5:00 a.m. CROSSFIT I HATE YOU. BURPEES I HATE YOU.
8:00 a.m. At my desk pounding black coffee — I am not in a good mood today.
7:00 p.m. Thank God this day is over. Clients never know what's good for them. Fuck 'em.
7:45 p.m. Jack refuses to pay for delivery, so we walk down the street to pick up our food. We are waiting at the counter of the sushi place and in walks Devin and his brunette. I wish I could say this is the first time it has happened, but it's not. We live in buildings near each other and see them regularly. I have introduced him to Jack as a former client, and when we see each other, it's a brief hello. Nothing more.
8:00 p.m. Eating dinner, binge-watching The West Wing, feeling comfortable and lucky to have this amazing man. We make love on the sofa.
DAY THREE
5:00 a.m. SoulCycle, go fuck yourself.
12:00 p.m. Lunch with high-school bestie. She's a model and only has tea at our "lunch" date. Talks about the stress of the industry and how lucky I am to have someone like Jack who's reliable, unlike the men she meets in her line of work. I feel a pinch of guilt about Devin and text Jack a kissy emoji.
7:00 p.m. Head off to a mixer for an up-and-coming fashion brand filled with bloggers and Instagram personalities.
11:00 p.m. Home in bed with Jack. He kisses my back, and I go down on him till he comes. He loves blow jobs and is always so thankful after. He asks for me to have dinner with his brother and his wife Saturday night at their place. I oblige because I can't imagine saying no to this handsome, kind man. Fall asleep in each other's arms.
DAY FOUR
5:00 a.m. Maybe being skinny isn't worth the torture of CrossFit? No, it is.
8:15 a.m. Text from Devin with a time and location for later. I squirm with excitement, then feel a slight pang of guilt. He requests I pick up something smutty, and I agree to oblige.
10:00 a.m. Pop out for coffee and slip into Bloomingdale's. I pick up a lace black slip that will make my tits pop.
12:00 p.m. Assistant tells me she's jealous I'm so dedicated to my workouts. I know she'd be a million times more jealous if she knew what the workout really consisted of. Laugh to myself thinking of the tiny 23-year-old fucking Devin. He'd destroy her.
12:15 p.m. I check in first and change into my outfit, then sit on the bed with legs crossed. I get so anxious waiting for him to arrive whenever I get there first.
12:20 p.m. He comes in and apologizes for his lateness. He gets hard immediately and loves the choice of outfit. He takes off his clothes and commands me to go down on him. I oblige. Next thing I know, I'm on my hands and knees and Devin is thrusting behind me. I come over and over again until I see stars. He finally pulls out and comes all over my ass.
12:45 p.m. I'm in the shower, and Devin gets in. He's hard again, and next thing I know, he has me pushed up on the wall and is deep inside me. He bites my neck and tells me he loves how tight I am. Before I know it, he pulls out and comes all over the shower floor. He takes my face and kisses me deeply. I feel a closeness I have never felt with him, and in this moment,I feel good and also so terrible for feeling close to someone who is not Jack.
1:30 p.m. Back at work texting Jack. We are getting dinner with his frat bother and his GF tonight. I know it's so shitty to say, but seeing Devin makes me appreciate Jack more in some fucked-up, twisted way.
7:30 p.m. Change at office into skinny jeans, white low-cut tank and pink spike heels. I like to show off for Jack's friends, and I know he likes it too. I think about us having sex later with the heels on — I would need to talk him into it, but I think he would like it.
8:00 p.m. At Tacombi with Frat Bro and his babe. She's an intern at his job, and they have to keep it hush-hush. This girl might be the dumbest person ever. I listen to her babble on and explain to me what Snapchat is.
11:00 p.m. We''re three pitchers of watermelon margs deep, and I'm drunk and horny. I kick Jack under the table and let him know it's time to go.
11:30 p.m. Home. Drunk. So horny. I take off all my clothes, but the heels and straddle him on the sofa. We fuck until I come. Jack has a thick, perfect cock, and it fills me up so much. He tells me he's definitely not coming after that much tequila. He knows I hate when he can't finish. He kisses me and tucks me into bed.
DAY FIVE
5:00 a.m. I try to get out of bed and Jack pulls me back in. He's hard: He gets on top of me and slides right in. He thrusts in and out, and I scream loud. He comes inside me, and I lie in bed feeling content.
8:00 a.m. Missing my morning workout and being hungover makes me a terrible employee. My boss and I have a meeting planned at lunch, and I'm already dreading it. This means I can't get in a lunchtime trainer session (real one). Send assistant to get me green juice.
12:30 p.m. My boss is also my mentor and the closest thing to a work friend I have. We talk shop the first half of lunch, then it's a quick life catch-up. She likes Jack (as everyone does). We discuss her marriage and her horrified reaction to people expecting her to have children. I envy her and her life. I think of Jack and myself at her age and where we would be. I smile.
5:00 p.m. I never stay late on a Friday unless I need to. I drop in to a SoulCycle class so I don't feel disgusting tomorrow and text Jack to see what he is up to after — drinks with the work boys.
8:00 p.m. Home. Showered. Fed. Decide sitting around alone all night while my boyfriend is out whooping it up is depressing, so I agree to meet up with some friends at Vandal.
10:00 p.m. Drinking rosé and laughing with the girls. A group of Wall Street types snuggles up to our table, and the single ones are loving the attention. I find them pushy and rude, I wonder if Jack is having fun. Should I text? No — let him have his guy time, he deserves it.
11:00 p.m. Home in bed before midnight and so happy about it.
1:00 a.m. Get woken up by Jack and his drunken buddy stumbling into our place to smoke weed and chill on the balcony. I pass back out.
DAY SIX
7:00 a.m. Whoever invented hot yoga should die a slow painful death.
9:00 a.m. Back at the apartment with coffee for the hung-over mess that is my boyfriend.
12:00 p.m. It emerges hung-over but well rested. Jack tells me he wants to cancel on his brother, but I insist we go to see him and the snob (his sister-in-law).
6:00 p.m. Dinner in BK with his brother and the snob. We suffer through hearing about how home ownership is so hard and all the work the brownstone still needs. They tell us all about the baby and how advanced she is for only being a year old. Dinner is boring, but Jack's family feels comfortable. I only have my mom, and she lives in Palm Springs with my stepdad. We talk once a month, and that is more than enough for me. I wonder if the snob has ever cheated on Jack's brother.
9:00 p.m. Home in bed with this beautiful loving man. Am I bad person?
DAY SEVEN
7:00 a.m. Hot yoga round 2 of the weekend. Fuck, this is horrible.
10:00 a.m. Home, showered, and ready to try a new brunch place that opened near us. We do brunch every Sunday — it's our ritual and I LOVE It. Sunday is also my cheat day, so I plan to order everything with cheese on the menu.
11:00 a.m. Downing mimosas like there is no tomorrow.
11:45 a.m. Laughing and talking about his drunken night out with buddies, which ended up at 1Oak with a ridiculous bill and one of the guys "accidentally" taking home a hooker.
4:00 p.m. Finally home making love in our bed. The perfect conclusion to the afternoon. Jack comes inside me and I kiss him hard on the mouth. I wonder if I need Devin in my life. I wonder if it's worth it. Maybe not. Could I be normal? Could I give up Devin and what we have? I let the guilt and thought of a cookie-cutter sex life lull me into a nap.
7:00 p.m. Eating dinner on the sofa with Jack watching House Hunters International. Text from Devin with the time and date for tomorrow. I confirm.
Want to submit a sex diary? Email sexdiaries@nymag.com and tell us a little about yourself.