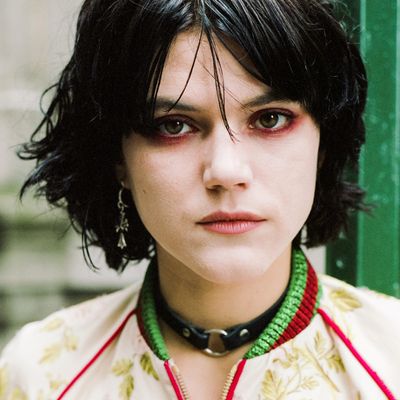 In the past few months, Soko has debuted two critically acclaimed films at Cannes, started working on her third album, and sat front row at Chanel and Gucci. Right now, she might still be best known for dating Kristen Stewart (the two reportedly split in May) or her stylish Instagram account @sokothecat (it has 144,000 followers and attracts so many love-struck DMs that she once collected them in a zine). But that should all change soon.
Soko grew up in Paris, but she now lives in Los Angeles, and she rejects the "chic French girl" label. "I've never felt very French, but I've always had the travel bug," she says, explaining that she grew up poor, with five siblings — circumstances that didn't allow her the luxury of seeing the world. She left home at 16 to become an actress. "I've felt like an adult since I was 10 years old. I already knew I wanted to act, my dad died when I was 5, and I just didn't like authority. As soon as I could leave the house, I was like, Peace out!"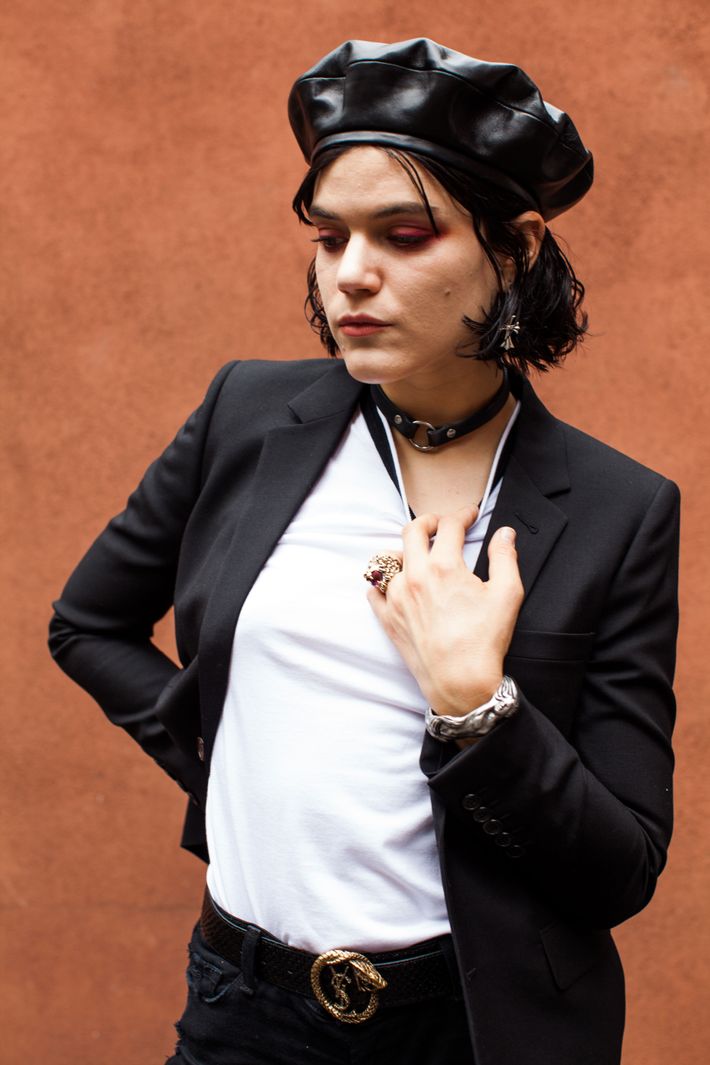 Saint Laurent Blazer, $3,550 at SaintLaurent.com; La Ligne T-shirt, 95 at LaLigne.com; Gucci Beret, $410 at Gucci.com; Saint Laurent Belt, $395 at SaintLaurent.com
She quickly found that acting wasn't enough for her. "I always say, I do what I want. Even after I got myself an agent at 19, and was going on auditions, and wasn't satisfied, it was important for me to be fulfilled. I found songwriting and taught myself how to play guitar, piano, bass, and drums. But I'll admit I am the worst musician because when people ask me to play someone else's song, I have to tell them I don't know how to play anyone else's songs but my own."
In case it's not abundantly clear, Soko, age 30, is fiercely independent. Even her personal style has a punk edge, though she prefers the term "goth princess." A self-proclaimed music nerd, Soko says she takes inspiration from the Cure, the Smiths, New Order, Joy Division, and the Ramones, mixed in with Simon and Garfunkel and newer bands like Deerhunter.
She wasn't trained in music, so she writes her songs while falling asleep, with lyrics in her head, and records them by singing every instrumental part into her phone's voice-memo recorder — "a Frankenstein technique, but it works."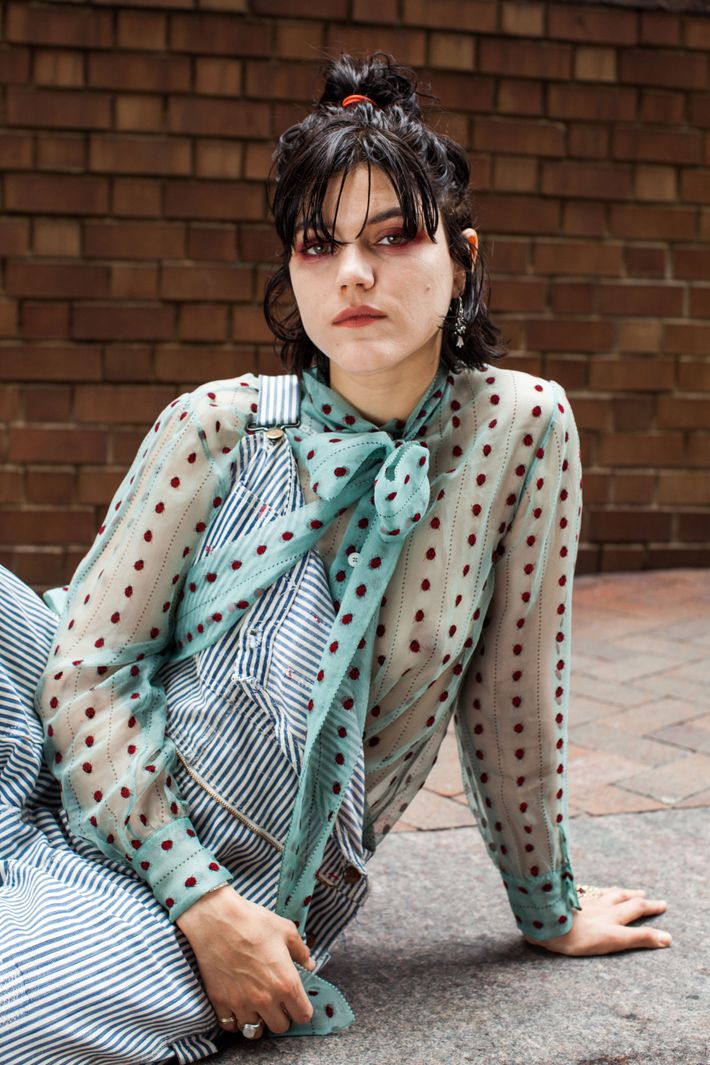 Gucci Blouse, Price Upon Request at Gucci.com
Her last album, My Dreams Dictate Reality, was partially inspired by one of her favorite movies as a child. "Sophie Marceau in La Boum was everything I wanted to be. She wore these cute matching denim outfits and she went to all these amazing parties. But the soundtrack to the film had the lyrics 'Dreams are my reality,' which made sense for my album because I always dream of something and then do it."
She applies that same force of will to her acting career, and it seems to be working: Her two films, The Dancer and The Stopover, both premiered at Cannes this year. The first to debut, The Dancer, was written expressly for her and took seven years to come to fruition. A musical drama co-starring Lily-Rose Depp, it tells the true story of Loie Fuller, a modern-dance pioneer at the turn of the 20th century. Fuller struggled with her body image and only started dancing at the age of 25 — late for the dance world.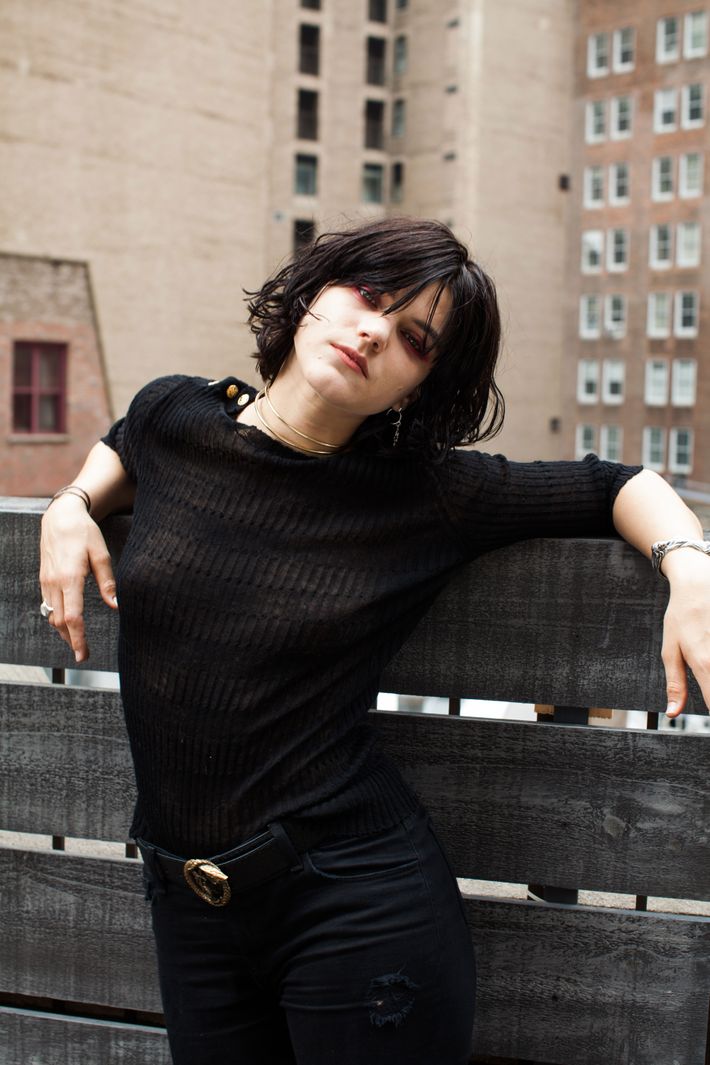 Chanel Shirt, Price Upon Request at Chanel Boutiques, Saint Laurent Belt, $395 at SaintLaurent.com
"You see the struggle of being an artist," Soko explains. "She's an underdog and it's not contrived in selling the idea that once you make it to the top, everything is okay. It's more honest in showing that even when you get to the top, there's always somebody new coming up behind you. It's especially true today with social media: As soon as you feel like something is viral and it's the biggest thing ever, everyone's on to something else."
In the second film, The Stopover, she plays Marine, a young French soldier taking a three-day leave in Cyprus after finishing her last tour of duty in Afghanistan. It was filmed by the Coulin sisters and won Cannes's Best Screenplay award. "I played this really masculine woman who had to prove to the men that she was just as good of a soldier as them, and very violent. What attracted me to this film was that it really felt empowering to women that are in a male-dominated world to free themselves, and a scream for freedom and femininity wrapped into one."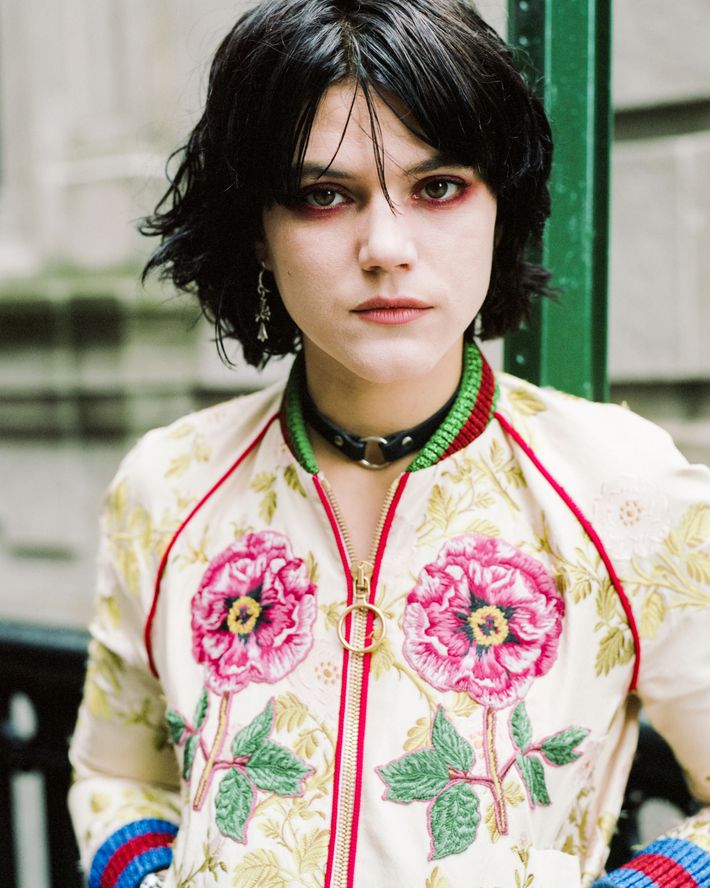 Gucci Jacket, Price Upon Request at Gucci Boutiques, Pamela Love Rings, Eva Fehren Cuff, Zayna Bayne Choker, $75 at ZaynaBayne.com
It can be hard to straddle the vastly different worlds of music, film, and fashion, especially for someone with such a strong sense of self and a life-or-death outlook on culture. Soko is quick to point out that she's become fond of working with millennials in all three fields: "I feel like kids are more accepting of change in the world and will take over and create a new normal. There's no room to be racist today — you might as well be a Nazi. Any fashion show that doesn't have a mix of women is going to be called out and rightfully so. I don't want to see any more 14-year-old anorexic girls."
And in any case, multitasking feels like a requirement, not an option, in her life: "It's been very hard but I see it as things that I needed to do to save my life. When I have an idea in my head, there's no way I can stop thinking about it, and I have to find a way to make it happen." Just to underscore the point, she says, as she's leaving, "I won't wait for people to give me my dream." What Soko wants, Soko gets.
Photos by Andre Wagner, makeup by Dana Rae Ashburn, hair by Scott King, styling by Lindsay Peoples.