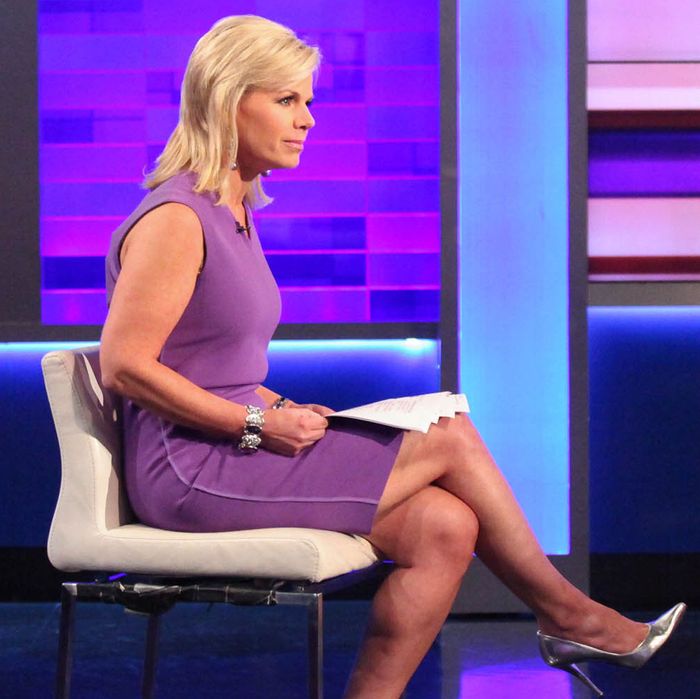 Gretchen Carlson on air (left).
Photo: Rob Kim/Getty Images
Gretchen Carlson, a longtime host of Fox & Friends, has reportedly filed a lawsuit against Fox CEO Roger Ailes that claims she was fired because she refused to succumb to his sexual advances. "I think you and I should have had a sexual relationship a long time ago and then you'd be good and better and I'd be good and better," Ailes once said to Carlson, according to the suit. "Sometimes, problems are easier to solve that way."
The complaint, which was filed in Bergen County, New Jersey, also states Ailes asked Carlson to "turn around so he could view her posterior, commented repeatedly about her legs, and instructed her to wear certain outfits that he claimed enhanced her figure." Ailes also allegedly "directed sexist comments" to Carlson in public and said at an industry event that "he had slept with three former Miss Americas, but not with her."
Carlson's employment was terminated on June 23, 2016, nine months after she turned Ailes down, despite the fact that her show, The Real Story With Gretchen Carlson, was reportedly the "leading cable news show in its afternoon time slot." Carlson also alleges that Ailes called her a "man-hater" who "tried to show up the boys" and took issue with her complaints of a hostile work environment.
In the suit, Carlson describes what it was like to work with Steve Doocy on Fox & Friends:
Doosey engaged in a pattern and practice of severe and pervasive sexual harassment of Carlson, including but not limited to, mocking her during commercial breaks, shunning her off air, refusing to engage with her on air, belittling her contributions to the show, and generally attempting to put her in her place by refusing to accept and treat her as an intelligent and insightful female journalist rather than a blonde female prop.
And one section of the complaint seemed to imply that Ailes's behavior was standard practice:
All in all, Fox News sounds like a delightful place to work.