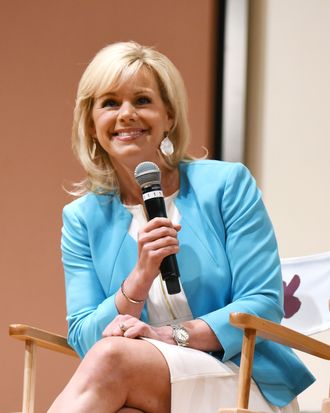 Gretchen Carlson.
Photo: Noam Galai/Getty Images
When Gretchen Carlson filed a sexual harassment lawsuit against former Fox News chairman and CEO Roger Ailes, she had no idea she wasn't the only woman who'd been subject to Ailes's repeated advances for years. "I thought I would be fighting this all by myself," she told the Washington Post in her first interview since the case was filed. But as more and more women came forward with similar stories, including Fox superstar Megyn Kelly, the Murdochs used the women's complaints to force Ailes out of the company, in one of the highest-profile ousters at any major news network.
Sure, they also gave him $40 million, but Carlson said her overwhelming feeling when she heard the news was of "validation," and then, eventually, anger: "I felt angry that it took so long," she said.
Carlson said she was grateful Kelly, among others, had come forward. "I appreciated that she told the truth, and I know it was risky," she said, but held that "the multitude of women" who came forward — and not just Kelly's testimony — was what ultimately forced Fox's hand. She added that she wasn't surprised when current Fox employees rushed to defend Ailes after she'd gone public:
"Some of them were lawyers. They should have known better, so I was surprised. It was like, 'Wow, you have no idea what you're talking about," she said. "But I was at Fox a long time. I know how it works. You could sense that it all was orchestrated."
She went on:
"We've moved the conversation, but we haven't changed the world in three weeks. I don't want to tell women they won't be retaliated against. One of the big parts of this equation is men. It will take men to change the environment, too. It's paramount that … men treat their colleagues like they would want to see their mother treated."