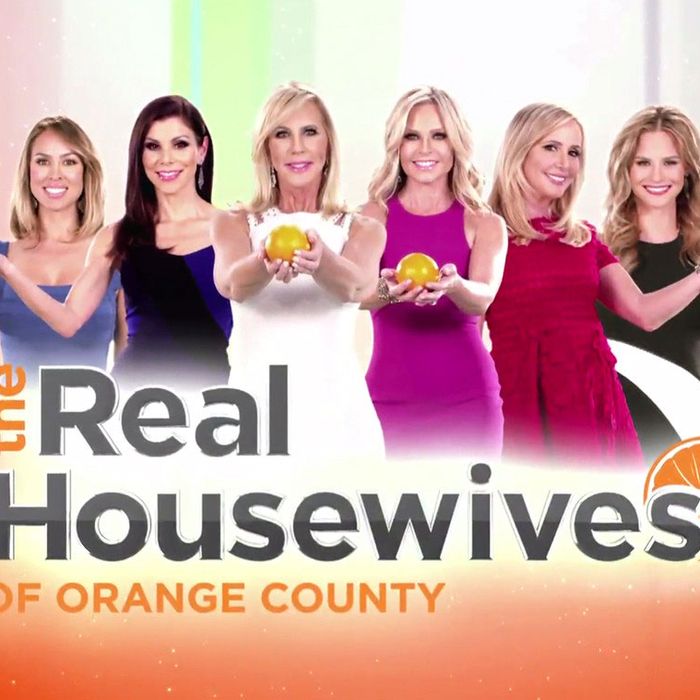 Thanks to cross-promotion within the NBCUniversal family, it is currently E!'s "Real Housewives Week." This means that E! is getting all kinds of inside scoops about the Bravo franchise, and today we hear from Real Housewives of Beverly Hills and Real Housewives of Orange County executive producer Doug Ross about which Housewife is the biggest pain in the Spanx. Would you be surprised to learn that it is … all of them?
Ross reveals that when it comes time to shoot those magical opening credits, the Housewives all clamor to be No. 1 Most Important Gal.
"That is some of the biggest political maneuvering with the cast members that goes on all season long and they talk about it from the very beginning of the year, what their placement is going to be," he says. "And, of course, everybody thinks that they deserve to be in the center and explains to me that they must be in the center and if they're not in the center, they're not going to come back next year."
Perhaps for the safety of all involved, Ross says that they shoot the final frame individually, and then put all the women together in a composite. "We actually ask every cast member to hold either the orange or the diamond with their left hand out wide, out medium, out close, and then both hands in the center, and then their right hand out wide, out medium, and out close — so we have all the options," he says.
There is one woman who will not give producers options, however.
"I can't name names, but I can tell you that there is one cast member that we work with who absolutely, positively refuses to hold her thing anywhere but the center," Ross reveals. "And I'm the person who directs the opening title shoot and I had to trick that cast member into holding her thing in various positions so that we actually had the option to put her not in the center. [Laughs.] I'm sure you could imagine who it is, but I will never tell you."
So it's either Vicki Gunvalson from Orange County or Lisa Vanderpump from Beverly Hills. My money is on Vicki, because Lisa can't be tricked.
Thank you, E!, Bravo, and Doug Ross for these reports from the front lines.