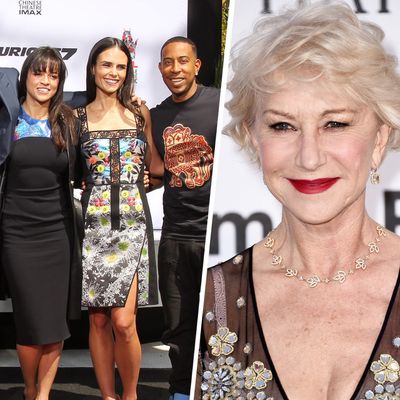 One thing that we can say with speculative certainty about Vin Diesel is that he's a pretty nice guy: He loves karaoke, he shares improbably sweet content to VinBook, and he cries a lot in public. But does that mean he's going to be welcoming to the Dame Helen Mirren on the set of Fast 8, a movie that she is starring in if you can even believe it?  She isn't so sure.
The esteemed actress has only one day of filming on the set of Fast 8, but she's still worried she'll stand out like a new kid in a group of old friends. "I'm very nervous," she told Entertainment Weekly, "because when you're going on to a set with people who have been doing this for [so long], basically, they all know each other, they've worked together, they know what they're doing. I'll be, you know, the newcomer, the newbie."
Helen, you need only prove yourself in a test of intense and life-threatening loyalty and then you're family forever. That's how it works.