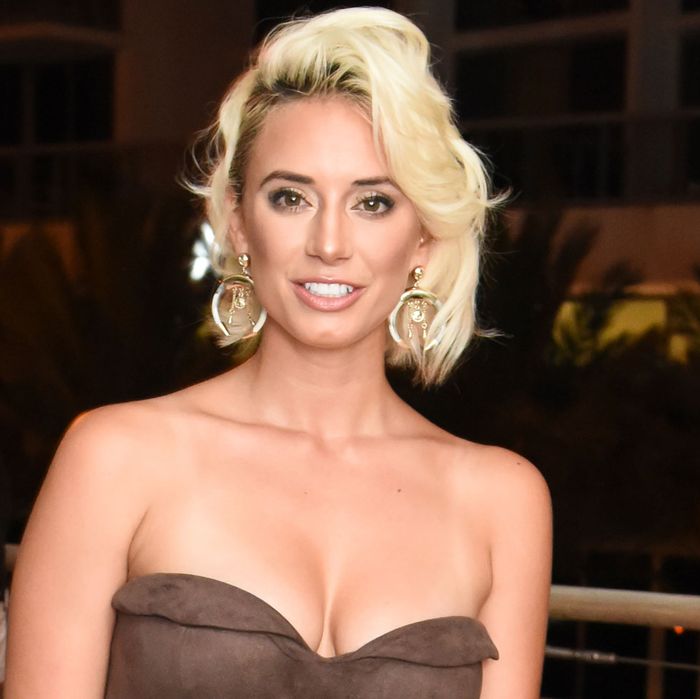 YesJulz, Snapchat royal, alleged blackmail victim.
Photo: Zach Hilty/BFA.com
Best known as the "Queen of Snapchat," Miami Beach model/promoter/professional partier/Instagram celebrity YesJulz was allegedly blackmailed by a fellow model who, with a mysteriously unemployed male accomplice, threatened to release nude pictures from her phone if she didn't pay $18,000.
Dubbed "Snapchat Royalty" by the New York Times last month, 26-year-old YesJulz (real name: Julieanna Goddard) appears to be as savvy about foiling crime as she is about captivating social media, where she has over 800,000 followers, including a reported audience of 300,000 on Snapchat. (Other resumé highlights: signing with Puma and Red Bull, partying with LeBron James and French Montana, getting name-checked in rap songs like "Wit My Crew x 1987.")
According to police reports obtained by the Miami New Times, model Hencha Voigt, 28, and Wesley Victor, 33, told YesJulz they hacked "sexually explicit" photos and videos from her phone, sent her a few pictures to prove it, and gave her 24 hours to hand over $18,000, or they'd leak everything on social media. Victor apparently texted her: "18K cash … you can have them back as I said you dope chick. I like your movment [sic] look if I feel any fun business game over your choice." Meet presumably jealous model-turned-alleged-blackmailer Hencha Voigt:
YesJulz agreed and set up a time and place for them to meet. But when the two waited for her in a car last Thursday night, on a palm-tree-lined street in the Venetian Islands, Miami Beach police showed up instead. They searched the car, found a cell phone (which Voigt tried to sit on), and said it was the same phone used to blackmail YesJulz. One of them admitted to the crime, and both were arrested and charged with extortion.
YesJulz is in fact too gloriously busy to let the whole thing bring her down: On Instagram yesterday, she said she's "Never Not Working" and hosting a party in Chicago this weekend. "What am I?" she posed to the New York Times. "Well, I'm an influencer for brands. I'm an events producer. I'm an A&R. I'm a publicist. I'm a billion things in one. I'm a host. I'm talent myself."
She is everything.