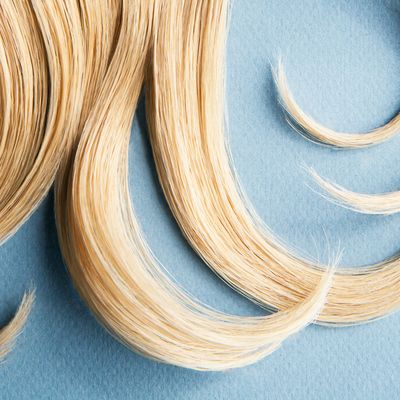 Photo: Andreas Kuehn/Getty Images
This is not a story about Hillary Clinton's hair. Because please; she's bigger than that. It's a story about her hairstylist. Another thing entirely.
Isabelle Goetz, who grew up in a village near Strasbourg, France, and owns the Izzy Salon in Georgetown, has been Mrs. Clinton's stylist and cutter since 1997. Other than the occasional blowout from Santa Nikkels, who has a salon near Mrs. Clinton's Chappaqua house, Goetz is the main mane, the chief coiffeur. (That recent trip to the salon at Bergdorf Goodman's? It was for color and other beauty treatments, says Goetz.) With a brush, a comb, and a can of spray in her bag at all times, plus an extra blow dryer nearby just in case, Goetz travels everywhere with the candidate, taming every last flyaway. "This is just a hardworking gig," says Goetz. "I never had a family because work goes first. My clients at my salon, they've been pretty happy to share me with her. They say, 'We'll take one for the team.'"
Goetz spoke exclusively with the Cut about being on 24-hour blow-dry duty for the Democratic nominee.
What's a typical day like?
I'm always on call. We usually start early, about seven in the morning, but I wake up as early as 4:45. The schedule is in pencil; things could change all the time. She will come with her hair washed and I'll style it. Sometime I cut it when it feels heavy. I blow out her hair with a round brush and volumizing spray, then I give her a face mask that she holds to protect her from the hairspray. It's like a windshield with a handle. She's getting a lot of hairspray during the day and I don't want it to go in her face.
I have my tools with me at all times. If I know I don't have to touch her up for an hour or two, I still have my stuff, my mini comb, my brush, my spray. The day usually ends late. After 11, easily — and that's if we're lucky. You go to your room, read the schedule, and lie down so you're ready for another day. It's always the same every night, just in different places. I'm always checking the weather if it's humid or if it's windy. If she's out there speaking, I'm always praying that the wind doesn't move her hair in her face because it's distracting. I want to make sure her hair is never an issue.
How do you have the energy to work those long hours?
I find myself closing my eyes if we have a long drive between events. For the first time, I'm capable of taking naps, power naps.
I'm always amazed by her. We would be sleeping on the plane and she would still be reading the paper and preparing for the next stop. I don't think people realize how intense it is. You take four flights a day, three on the East Coast and then you end up on the West Coast.
What was Mrs. Clinton's hair like when you started working with her?
I gave her a cut in '98, and little by little I started to transform that bob into something that has more lift and layers. It's good for a lot of women, especially professional women. It's feminine but classic. If you push it a little bit back, it has a great line. The style opens up the cheekbones and has volume at the top.
Do you have to work in cramped spaces?
Not really. If we don't have a holding room for her at an event, then we'll do it in a restroom. I've seen a lot of restrooms.
How do you know when to step in and when to back off?
You have to read her mind. I've been with her since '97. It's my fourth campaign, and second presidential campaign. You have to read if we do have time or don't. You have to know when to stop, because you don't want to steal time away from her work.
Barbara Lacy, who does the makeup, has been with Mrs. Clinton even longer than me. We have to dance around each other, working at the same time.
Basically, you have to be fast and good.
Have you ever had any disasters?
I blew out the dryer in Africa. I plugged it in and it started smoking. This was in the beginning and I was not prepared. Somebody found a local dryer, but you feel like you're wasting time. I always have an extra hairdryer with me now.
Which products do you use on Mrs. Clinton?
I try to find products that don't have so much scent, because if you spray in a small place it becomes so toxic. My favorites are by Kerastase, the mousse, and Oribe.
How do you feel when other people take credit for her hair?
People always try to claim her, even if they've only seen her once. I could see why, because she's such a big shot. But during the long hours, the travel, the speeches, the debates, I don't see them there.
What is it like to see your work on such a powerful woman at such an important time?
I'm proud that I can make her feel good and confident, but it's just my job. The one time it hit me was when I went to the White House and I saw the portrait of Mrs. Clinton, and I thought, that will always be there. It may not mean that much to other people but it means a lot to me. That's cool.
Do you ever want to get your hands on Donald Trump's hair?
Ha! No! I think he looks like who he is. It's fake. It's weird. It's yellow. It's him. The whole thing.
Do you ever want to change Mrs. Clinton's hair?
I think she'd like to try more things with it. But for now, that look is a good look and she should stick with it.
For her daughter's wedding, we definitely made it more sassy. I hope she has a lot of state dinners and we could have fun again.
How do you explain your longevity with her?
When I started, they called me "a keeper." I said, "What's a keeper?" "It's somebody we keep." I didn't know what it meant but I thought it was sweet.
This gig takes so much commitment. But she's like my mom, and she's someone I worry about and want to take care of. If she asks me to do something, I always say yes. I think she's lucky, but I feel lucky, too.
This interview has been edited and condensed.