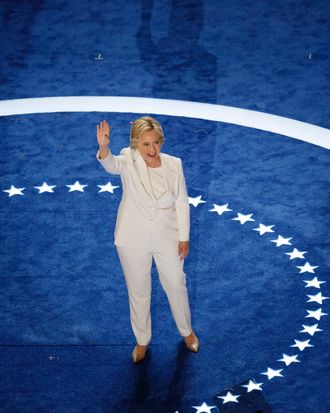 Hillary Clinton in a white pantsuit.
Photo: PATRICK T. FALLON/Getty Images
The white pantsuit that Hillary Clinton wore to accept the Democratic nomination last night was read by many as a nod to suffragists, who wore white to their protest marches. And yes, there were comparisons to Geraldine Ferraro and Olivia Pope as well. But while everyone's been busy decoding the message of Clinton's suit, no one seems to know who designed it. And that might be the idea.
After reports surfaced yesterday that Anna Wintour was providing fashion advice — in addition to fundraising support — to the Democratic candidate, it seems like a Vogue darling might be outfitting Clinton for her big moment. But no breathless email release followed to claim ownership of the design and ally themselves with this history-making moment.

Which means Clinton is behaving … well, pretty much like a male candidate. We know that Donald Trump favors Brioni suits and that President Obama is a fan of Hart Schaffner Marx's union-made versions, and that Bernie Sanders wears pretty much whatever's lying around, but beyond those basics (and the occasional tan-suit gaffe … what were you thinking, Barry?) their fashion choices don't get much play.
By choosing a fairly unadorned, workaday look and not blasting out the name of the designer, Clinton is making a strike at gender parity, albeit in a quiet way. Now, let's get back to talking about that speech.