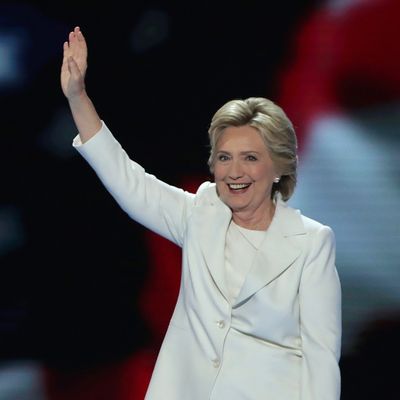 Photo: Alex Wong/Getty Images
Hillary Clinton knew that all eyes were going to be on her the moment she stepped onstage at the Democratic National Convention to make history by formally accepting the party's nomination for the presidency.
That Clinton wore a pantsuit — as she has done throughout the years in an array of colors — was hardly surprising. Yet there was something different about this suit.
For one: It was an all-white ensemble, with a deep-V jacket and high-neckline shirt underneath. The tailoring and cut seemed more modern and fitted compared to the other suits and boxy jackets that Clinton has previously worn. This look had its own kind of sleekness.
Yet, there was still something else. To see it, we have to look through history.
More than 100 years ago, the women in the suffrage movement often wore white during their marches and protests for the right for vote. In fact, in one of the movement's memorable moments, Inez Milholland Boissevain wore a white cape while seated on a white horse during the National Woman Suffrage Association parade of 1913. Talk about making a statement.
It's not too far-fetched to think that Clinton's all-white ensemble at the DNC may have been her way of giving a nod to the pioneering women who came before her. Geraldine Ferraro also wore white when she accepted the nomination for the vice-presidency in 1984, becoming the first woman to do so.
Of course, there's no official word as of yet on whether any of this was Clinton's actual intent. That's no matter, though.
Watching Clinton stand onstage at the convention, beaming, after having come so close to the nomination in 2008 and now being one election away from the Oval Office, makes for an iconic moment on its own. The historical allusions, intentional or not, stand.
But, we also don't have to go too far back in history to guess at the inspiration behind her look for the night.
There's always the chance that Clinton may have simply been channeling her inner Olivia Pope on a historic night when she needed to let the country know: "It's handled."
Your pick.