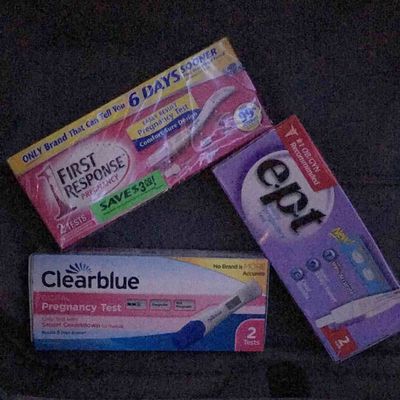 Photo: Kim Kardashian/Snapshat
The New York Times Sunday Review has a stunner of a story about Margaret Crane, the original inventor of the home pregnancy test, as well as the frankly sexist attitudes she encountered after she proposed the idea to her bosses at Organon Pharmaceuticals.
Crane was working at Organon as a product designer when she hit upon a revolutionary idea: home pregnancy tests that would make it simple and quick for women to test their own urine the same way a doctor would, but in the privacy of their own homes. She even built her own futuristic-looking prototype, but her bosses nixed the idea for a variety of increasingly ludicrous reasons — for example, that it would become a liability to the company if "hysterical women" began offing themselves after getting positive results. Perhaps more important, it would anger doctors (their target market) by taking business away from them. Could women even figure out how to work the damn things correctly?! The subtext, of course, was deeply sexist, and fraught with fears of "antagonizing doctors and aligning themselves with the 'fast women' who desired a fast test."
In a twist straight out of Working Girl, Crane found out her bosses were bringing her idea to their bosses, so she crashed a strategy meeting, presented her prototype, and did the damn thing. As it happened, the advertising man was one Ira Sturtevant, and he knew a crackerjack idea (and idea-haver) when he saw one. The two became partners in business and in love, staying together until Sturtevant died in 2008.
That doesn't mean that the home pregnancy test wasn't met with serious resistance, though. As per the Times, it's also part of a larger problem of patients being discouraged from becoming their own advocates, or being given the tools and tests that would help them monitor their own bodies.
Crane's prototype is now in the Smithsonian.