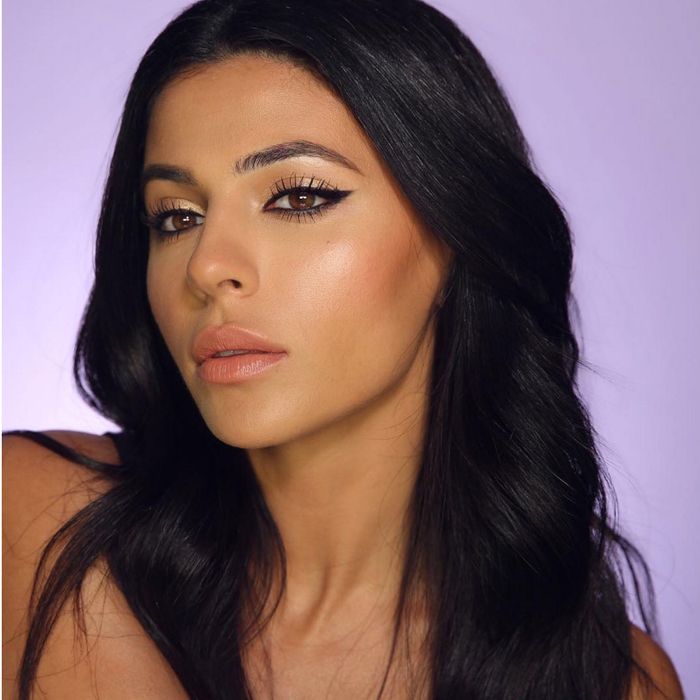 Teni Panosian.
Photo: Courtesy of Instagram/tenipanosian
When you have hundreds of thousands of followers on Instagram, "it becomes a business, man," as Jay Z once rapped. Instagram beauty influencers and businesswomen @Makeupshayla, @tenipanosian, and @iluvsarahii know. These professional Instagrammers treat their accounts like jobs, posting daily beauty content to rack up thousands of likes per post. The Cut talked to them to learn about how they grew their feverish followings, their favorite photo-editing apps, and their advice for getting what everyone wants — more followers.
Shayla Mitchell, @Makeupshayla
My first Instagram post: Something that was probably the worst picture ever, like of my eyes with an iPhone 5. [Laughs.] It was definitely makeup-related. The whole reason I started was because I worked at M.A.C and needed money. My manager told me about Instagram. I was like, "Oh, I'll start posting pictures to get extra work to get freelance money."
When things changed for me: When I quit my job at M.A.C and started freelancing full-time. About a year ago, I said I'm going to stop doing makeup and focus on doing my own makeup. That's what makes me happy.
In terms of followers, when I got to 1,000 followers I was like, "Woah!" And then I got to 10,000.
A million was also a big deal. It's hard to get a lot of followers when you're not exposing your body, especially as a woman.
My social media strategy: I post on average, three times a day. Every once in a while, I'll take two days off or a day off. I tend to do better in the evening. I'll do around two, 5-6 p.m. and 9 p.m. At M.A.C, I used to post in the morning on my way to work and not even edit it.  I was so crazy back then! [Laughs.]
On taking photos: I probably take like 200-ish photos for every photo I post. I still take iPhone pics once in a while, and upload it, but I make sure my skin looks smooth. I used to use my iPhone for everything. Now you have to step it up. I use my Sony A5100 for my pictures, and a Canon camera for videos. Even with Instagram videos, I can't take it with my iPhone.
Always face the light. You never want your back to the light, that makes you look dark. I usually have my camera at eye level or a little higher and tilt it down. At night, I'll always use a flash. I have all different lights, like an LED light and a ring light. If it's late at night, it's not going to happen if I don't have my camera. Natural light is great. My apartment faces east so it's especially great between 3-5 p.m.
My favorite apps: Facetune — that's everything for me. I use it all the time. I'll use Pic Stitch, or apps that will flip the picture around. Also, SnapFeed. Let's say a part of my body is discolored because of lighting, I can warm up my body a little bit. If it's too light, I can darken that.
On hashtags: I remember I had probably like $30 in my account, and I bought a $20-eyeshadow from Sugarpill. I tagged them and hashtagged them, and that's how I got re-posted and I got a lot of followers that way. I always tell people to hashtag the brands you use.
Now, I only hashtag if I'm trying to be funny or doing some of my personal ones.  For example, I'm teaching people on Snapchat how to pose and learn what I've learned from the hashtag #Shaylataughtme.
My advice: Constantly engage with your followers. Also, I know how to pose now. I teach people how to pose with #Shaylataughtme. For me, because I'm curvy, I twist my hip out. It doesn't hurt but I'm stretching my body out.
You also need to be consistent. If this is something you're passionate about, you have to keep going. You're going to reach a point where you're like, nothing's happening. But you have to keep doing it. People are also afraid to show their personality because that comes with judgment. But you need to let your personality show so that people get a sense of who you are.
Karen Sarahi Gonzalez, @iluvsarahii
My first Instagram post: It was probably a picture of my friends. The first one wasn't even makeup-related. I didn't have the talent then to do the editing that I can do now.
When things changed for me: Well, I used to post pictures of my food or of me at Venice Beach, and they wouldn't do that well. But once I posted makeup, engagement and followers would spike up. I realized that nobody cares about my food. People follow me for makeup, and that's where I saw the most potential.
Also, people started recognizing me. I was at M.A.C and only had a few thousand followers. People would come up to me and say, "I think I follow you on Instagram." I laughed and was so embarrassed. But that's when I realized, oh my god, this is so weird! From there, it took off. And then a lot of my favorite brands start emailing me about products.
My social media strategy: Now it's more of a job. I wake up and am inspired to try new stuff. My job is to be a leader, give them makeup tips, and post new stuff that my followers want.
I try to do a selfie, makeup tutorial, product shots, and an outfit. I try to do about three to four a day. Some days, I'll just post one or two. When I don't have time, I'll post stuff on Snapchat, too, and I'll communicate with my followers. They get it. They understand when I'm too tired to post.
On taking photos: Up until six months ago, I would shoot them off my iPhone in a corner of my mom's house with a ring light. I was doing it there from the floor. My boyfriend takes pictures of me. He is my Instagram boyfriend. [Laughs.] We've been working with each other for a while now. He knows what I want and what I need. We'll do stuff, and he'll be like, "That's not your angle."
I'll still take product shots on my iPhone. Sometimes, people like the edginess on a phone. I always make sure I have a clean area on a floor. Or I'll take a white pillowcase and just put the lights over it.
My favorite apps: Obviously, everyone knows about Facetune. It's the first app everyone uses. You can cover a zit or a lash if the glue is coming out. I mean, there could be a fire hydrant in my photo, and I can literally patch that from my phone. I also love Afterlight — I  add a little bit of light in a picture to brighten it up, or change it to make look very vintage.
On hashtags: I was the girl that did 500 of them. It works for growing an audience. But I'm so lazy now. I don't even hashtag things. If I do, maybe I'll put in a few brands. It's a great way to get known.
My advice: You have to keep your page beauty-related. Don't do tons of family pictures — keep your content neat. Keep up with people and engage with your following. You don't want to come off snotty. Be personable — read their comments. Also, post consistently. You go on your favorite bloggers' pages because they're constantly posting.
I also always have five people I look up to. If it's a makeup artist, I'll see what I like about her picture. I'll get inspired and take my own version. With video content, think about how to make it more engaging. For example, if it's about your favorite lipstick, instead of holding it up, put it on you or swatch your arm. You'll get better content and engagement.
Although it's expensive to get right away, I definitely recommend getting a ring light on Amazon for about $100. It makes everything look better. Also, a good camera. A Sony camera that's called a RX100 is about $500, and it's a good starter camera because it has WiFi and you can send pictures to your phone without worrying about a computer.
Teni Panosian, @tenipanosian
My first Instagram post: It was probably a showcase for ABC, and it was just the cast and my hands in a huddle about to go on stage. My first makeup one was probably a holiday-makeup look with glitter.
When things changed for me: I started looking at other people's Instagram accounts and saw that it was turning into a little magazine on your phone. And then @vegas_nay, Naomi Giannopolous, re-posted me and that's how I got to my first 10,000 followers.
My social media strategy: That whole one post per day thing, I don't pay attention to it. That would pressure me to get a post up. You can use little services like Iconosquare, which tell you the highest engage time. For example, I found that video tends to do better Sunday nights at 9 p.m. and tend to get the most engagement then. Some accounts have the super-high quality pictures, a good color scheme, and are aesthetically beautiful, and that's what I try to do with my account.
My favorite apps: Well, Facetune is the one we all love. Smoothing skin, whitening the eyes, and literally Photoshopping things out. I also love Afterlight. It has pretty filters. I do find myself using it less since Instagram has stepped up the filters.
On hashtags: I don't use hashtags. Hashtags are almost an opportunity to be funny. It's not visible. My philosophy is if they like you, then they'll like you. If they're finding you based on the hashtag, they'll probably also move on.
In the beginning, I used some but nothing too noticeable. It might have been things like #makeuptutorial or #smokeyeye. Now, people hashtag things like #megirl. What does that even mean?
On taking photos: I use natural light most every time, during the day. For a long time, I was using the Sony mirror-less camera that has the flash that makes everything look really pretty. Then I was doing high contrast, high saturation. It takes me less than an hour to pick a picture. I know the usual filters that I like. What takes longer is the caption, because I'll use that as an opportunity to joke around and interact.
If it's a selfie, we're talking about 30-40 tries. There's an awesome meme of NeNe Leakes and looking at her phone and crying. It's like when you think you look cute, and wonder why you were ever born. The camera is so different!
My advice: In the beginning, it's important to post consistently. I also find that people who post based on what's trending, these videos tend to go viral. For example, the spoon contouring or the clown contouring. If you want to get a big following, that's probably the best way to do it. You can also look at what's trending by looking at hashtags, what you see major makeup artists doing, and what major beauty outlets are writing about.
Now there's no strategy. It's what compelling. Snapchat is just a casual thing. It's definitely highly curated.
In the beginning, when I realized it was going to be a big thing, it was all strictly makeup. But I also started to notice they wanted to see more of my personal life.