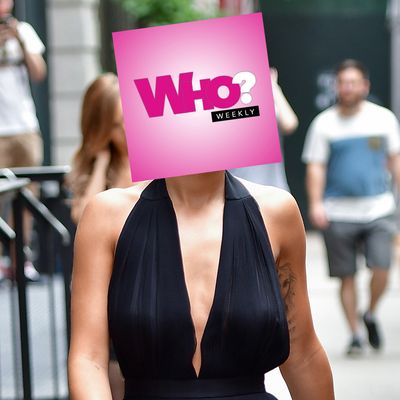 Who?
Photo: James Devaney/GC Images
"Who?" might be the defining question of the social-media age. In your daily web-browsing habits — loading Twitter, scrolling through Instagram, scanning Facebook's Trending Topics — how often do you come across a headline or an article or a caption where you have literally no idea who they're talking about? It's not just you! Don't worry! No one does. Welcome to the world of Whos.
"Who?" is a question we find ourselves asking a lot these days, as the formerly tiered world of celebrities has split into two nebulous categories: Whos and Thems. In fact, we're so concerned with this phenomenon that we host a podcast called Who? Weekly, where we attempt to map the vast Who-niverse. Allow us to attempt to explain the Who phenomenon.
The Rise of the Whos
D-list celebrities are as old as time itself, but until very recently, it was possible to avoid them entirely. Now that we've all been thrown together on — and get our news from — enormous social platforms with seamless, instantaneous sharing, it's more likely than ever that we'll be confronted with stories about people who sound made up. The traditional A-list-to-D-list hierarchy no longer makes sense when people whose names you've never heard before are trending on a social networks with hundreds of millions of users. Instead, the subjects of gossip coverage can be divided into two categories: Whos (as in: *furrows brow* Who?) and Thems (as in: "Oh, them.")
The rise of Whos has been aided by the internet's attention-based advertising economy. In today's unlimited, always-on news environment, publications have found themselves in need of an uninterrupted stream of gossip to satisfy the demands of their readers and advertisers. The universally known celebrities of the monoculture can only provide so much. And so outlets like TMZ, Us Weekly, and E! Online, have begun to drill into a vast untapped store of gossip: the Whos. Who gossip isn't high-quality, but it adequately fills the gaps between more features on the more substantial Thems. For every Blake and Gwen, there are scores of Doves and Ryans.
How to Spot a Who
How can you tell a Who from a Them? The obvious rule of thumb is: If you have to ask, it's a Who. But the truth is, discerning Whos from Thems is an art as much as it is a science, and even if you listen to our podcast every week, it can be hard to keep track of who counts as a Who and who as a Them. What follows are some clues to determine whether the semi-celebrity currently appearing in your Facebook feed is a Who or a Them.
Whos must have their "major" credits pointed out.
This is the most obvious rule, because the single unquestionable defining quality of a Who is that the immediate response to any piece of news about them is: "Who?" Tabloids and gossip outlets will always attempt to head off this reaction by including the Who's major credit in the headline or suffocatingly contracted tweet: "Why #TeenMomOG's @MaciBookoutMTV chose the name Maverick Reed for her third child, tweets Us Weekly. Thems, by virtue of being thems, rarely need to be identified. (Imagine a headline that needed to refer to Angelina Jolie as "actress Angelina Jolie," for example.)
Whos get press for wearing clothes.
Ever seen a tabloid story in which someone is featured picking their kids up from school? Holding a carton of Tropicana in the supermarket while in full glam? "Looking Healthy in a Bikini"? Wearing a yellow T-shirt and doing … nothing else? Thems get press for doing their jobs: acting, singing, cavorting with models. Whos get press for doing anything but their jobs — wearing clothes, eating at restaurants, and standing outside on the street — because who can even tell what their jobs are.
Whos sell crappy things on social media.
At this point both Whos and Thems use their Instagram and Twitter accounts to hock everything from flat-tummy teas to smile whiteners. So how can you tell the difference between the two? From the frequency of the telltale #spon hashtag, and the quality of the brand. Whos will attach their names to whatever comes along — Mother's Day gift baskets, say, or skinny tea. Jersey Shore's JWoww sells waist trainers, Kardashian-adjacent Scott Disick sells teeth whiteners, Housewives' Lisa Rinna sells a 'fabfitfun' box – whatever that is. Thems, if they shill at all, do so only for big brands, and often without even showing their faces.
Pretty much everyone in Daily Mail is a Who.
Looking for Whos? Just head on over to Daily Mail, the Who publication of record. At the Mail, which aims for the broadest possible audience, even the occasional Them is covered as a Who. No one covers the banality of everyday celebrity life like Daily Mail: "From snow to desert! Rachel Zoe flies out of Aspen ahead of Coachella weekend swapping the ski fields for a plethora of poolside parties"; "We knew you were Wilde but … Olivia exposes nipple in vampy see-through dress as she goes braless in NYC"; "Putting it all behind her! DJ Tigerlily shows off her toned torso in crop top and skinny jeans as she steps out for the first time following nude Snapchat scandal." By the time you get the end of a Daily Mail headline, you're bound to forget who you were even talking about. Endless coverage of nip slips, baby bumps, and entire articles written solely around a single Instagram make Daily Mail one of the best places to sniff out Whos.
Whos are on reality TV competitions — but they never win.
Whos can be mined from almost anywhere, but the greatest Who reserve known to mankind is reality TV. The number-one, surefire sign you are a Who? If you are famous for competing on a reality-TV competition that you didn't win. Think Housewives of New Jersey Who Caroline Manzo, or Rock of Love Who Daisy de La Hoya.Yes, winners are often themselves Whos, but the losers and runners-up move from American Idol and its brethren to an inexplicable and endless Whodom unlike any other. (The one exception: Jennifer Hudson.)
Whos saw Hamilton on Broadway after Meryl Streep.
Lin-Manuel Miranda's Hamilton is the hottest ticket on Broadway. After the show opened, in the summer of 2015, some of the biggest names in entertainment began flocking to the Richard Rogers theatre to witness the phenomenon, claim the reserved VIP seats, and get the requisite selfie with Miranda, who would post photos night after night. But like all hot tickets, there is a peak, and this one came with Meryl — one of the world's last true Thems. By March, when Miranda posed with #DWTS' Julianne Hough and #GreaseLive's Vanessa Hudgens, it was clear: The most famous people in Hollywood had already taken their shot. If you saw Hamilton after Streep, you missed the cutoff.
Whos are "bigger in Europe."
Suuuuure.
Okay, Whos are bigger in Brazil?
Whos are likely named Rita Ora.