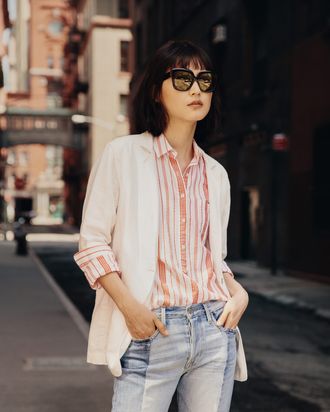 Here's the usual complaint about an outfit that centers around a pair of jeans — how is it even special enough to warrant writing about it? Doesn't everyone know how to put on jeans and a shirt? In theory, sure. But it's so easy to dismiss how convenient and confidence-boosting good denim can be. Jeans are the thing you reach for when you're groggy from a crappy night's sleep and the last thing you want to do is agonize over styling yourself. It's what you can throw on and know that no matter how bad the day may be, at least one part of your life is sorted.
The trick is choosing a pair that isn't your standard boyfriend or skinny cut. These play on the current trend of patching together different washes and feature a shredded hem at the ankles. Worn with a tucked-in, loose cotton striped shirt and linen blazer, it looks pulled together — even if you didn't bother to iron or steam a thing. It's the ideal way to embrace lazy warm-weather dressing, complete with summer jeans.
i. JACKET: Gap linen cotton relaxed blazer, $53.99, Gap.
ii. SHIRT: J.Crew classic popover shirt in striped gauze, $34.99, J.Crew.
iii. JEANS: Frame Nouveau Le Mix jeans, $449, Frame.
iv. SUNGLASSES: Mykita sunglasses, $549 for similar, Mykita.
Photographer: David Urbanke; styling by Diana Tsui; model: Xuchao Zhang at Muse Management; makeup by Samantha Lau; hair by Jerome Cultrera; photo editor: Raydene Salinas.