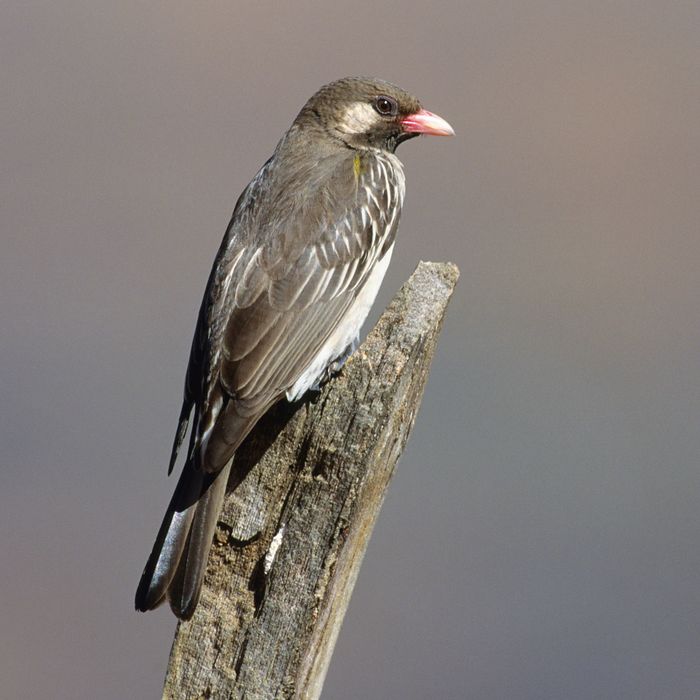 If you're hanging out in Sub-Saharan Africa, you may alight upon the honeyguide, a robin-size bird with the telling scientific name Indicator indicator. The honeyguide, if you call to it in the right way, will live up to its name, guiding you to bees' nests so that you, ax in hand, may wallop a nest, get stung a couple of times, and extract the delicious, nutritive honeycombs inside. Just be sure to tip the honeyguide with a little bit of goo.
While there's reason to believe that honeyguides have been guiding humans to honey for many thousands of years, it's just this week, in the journal Science, that the human-avian tag team has been documented in a scientific study. Led by Cambridge University field biologist Claire N. Spottiswoode, the study found that when a honey hunter called to a honeyguide, the chance of the bird assisting the person in finding a nest increased from 33 percent to 66 percent. That in turn increases the shot at finding a bees' nest from 17 to 54 percent, which is awesome.
This particular honey-hunting tradition comes from the Yao tribespeople in northern Mozambique. Spottiswoode tells National Geographic that the Yao men learn the call — which is something of a "brrr-hm" — from their fathers, and the only time they ever use it is when hunting for honey. While there's evidence that dolphins will help fishermen corral fish, the honeyguide–honey human cooperation suggests that "there is communication between humans and free-living wild animals that the animals understand," Spottiswoode says.
Anthropologists have reasoned that honey was instrumental in human evolution. Human brains are tremendous consumers of energy — like up to 20 percent of what the body uses — and honey is one of the most energy-dense foods available in nature. It's something like 80 to 95 percent sugar, making it more than worth its weight in gold to early humans and other hominids, and it may have played an important role in keeping those growing human brains fed. As Heather Pringle observes in a post on the science blog the Last Word on Nothing, the prehistoric artists of the Altamira cave paintings — which date to 25,000 years ago — depicted bees, honeycombs, and people climbing up ladders to fetch honey. So humans have been collecting combs and feeding our brains with them for thousands of years. But we haven't been doing it alone.