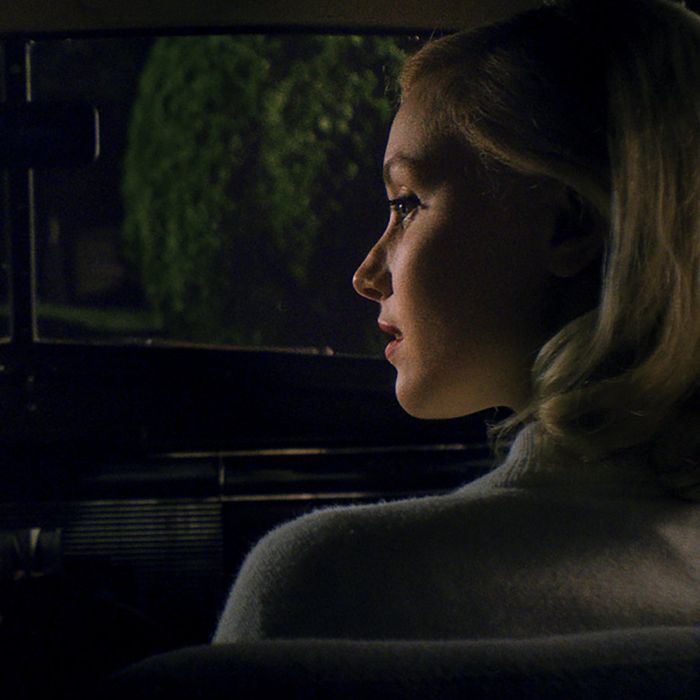 Logan Lerman and Sarah Gadon in the new film Indignation.
Photo: Courtesy of Bing Feng Bao Entertainment
Former Focus Features CEO James Schamus tackles Philip Roth's dark universe of collegiate sex in his directorial debut, Indignation, based on the author's 2008 novel of the same name.
The story centers on Marcus Messner (Logan Lerman), a butcher's son from Newark, New Jersey. The first in his family to go to college, Marcus is intent on keeping his head down and studying. But all is soon lost when Marcus encounters the bare calf of the beautiful co-ed Olivia Hutton (Sarah Gadon). Transfixed, he takes Olivia to the fanciest French restaurant in town, and is shocked when she performs a quick round of fellatio in the back of his roommate's Plymouth after dinner.
Curious if Olivia has ever behaved similarly with other men, Marcus soon learns she's known around campus as the "Blowjob Queen of 1951."
Last night at Indignation's New York premiere hosted by the Peggy Siegal Company, Schamus spoke with the Cut about Roth's classic tale of slut-shaming. The director, who teaches film at Columbia, argued that over 60 years later, these sexual double standards are still common for young women.
"We would love to think since 1951 we have so moved on, and we are so much more open and progressive, and we are swiping right, and it is all just so easy," Schamus said. "But if that were the case, why is this culture of slut-shaming seemingly just as prevalent, if not more so? If we are all so advanced, what accounts for that?"
Schamus said that although things are better for his two daughters than they were for Olivia Hutton in 1951, he's always surprised when women are still harassed for their sex lives.
"Having two daughters and watching them grow up, obviously things are better for them than they were for Olivia Hutton in 1951," Schamus said. "But that's what makes it all the more shocking when some things aren't better — when the sexism, and the weird double standards, and the weird judgmental ickiness just seems so out there."
To capture the nuances of sexual repression in the 1950s, actress Sarah Gadon looked to the journals of Sylvia Plath.
"You were literally stuck in your dormitory like a loser unless you got a date or your family took you out," Gadon said. "I remember Sylvia Plath writing about that and jumping at the opportunity to just get a date in a geographically stifling, oppressive environment. In the first date scene [my character] is just so excited and I think that excitement isn't just because she is going on a date with Marcus; it's because she is going out of the dorm."
Gadon explained what the film's exploration of old-age slut-shaming can teach us about the current culture: "A lot of our early sexual experiences are shrouded in mystery, confusion, and embarrassment, and I don't think that is a standard that has really changed over time," she said. "That is something we really connect with. In the '50s, we didn't have a name or a label but I think it still very much exists, especially in your early sexual encounters. There are a lot of questions that are unanswered and a lot of mysteries."