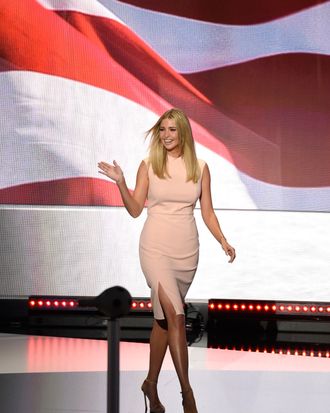 Ivanka Trump at the Republican National Convention.
Photo: Ida Mae Astute/ABC via Getty Images
On Thursday night, Ivanka Trump — otherwise known as Donald's favorite daughter — introduced her father with a speech that emphasized the business acumen of women. While speaking in support of paid-leave policies and affordable child care, the eldest Trump daughter wore a sleeveless pink sheath dress from her own clothing line, which is available at stores such as Macy's, Nordstrom, and Lord & Taylor.
Ivanka's clothing line is manufactured and distributed by G-iii, an apparel group that manages the Calvin Klein, Kenneth Cole, and Jessica Simpson brands, among others. It netted $100 million in revenues in the last fiscal year, and a G-iii representative said that soon they hope to increase revenues to $250 million. She approached the company in 2012 after she cut ties with her former licensing company, which was about to go bankrupt. Her arrangement with G-iii is also a licensing agreement; the company sells clothes under the Ivanka Trump name, and in return she gets a cut of the profits. (According to Forbes, she has similar deals with Diamond Dynamics LLC for a fine jewelry line; Marc Fisher for a line of shoes; Mondani for a handbag collection; and B. Robinson for a line of eyewear.)
Thanks to her arrangement with G-iii, most of Ivanka's clothing line is manufactured outside the U.S. In March, an economist found that, "Of the 838 Ivanka products advertised through the site, none appear to be made exclusively in the U.S.; 628 are said to be imported and 354 made specifically in China."
Her father's products have similar origins, but when confronted with this apparent conflict of interest, Donald has replied that he has to make his products overseas because countries such as China have "manipulated their currency to such an extent that it's hard for our companies to compete." Should he be elected president, of course, Trump said he'd make sure that wasn't the case.
But how much would it really hurt Ivanka's business if she produced her clothing in the United States? She'd presumably have to replace G-iii, which would mean shaking up distribution as well as manufacturing — potentially a lot of money and effort. Also, as one entrepreneur told me, producing locally usually means increasing your price.
To come up with a retail price, clothing companies typically calculate the cost of producing a garment (including the overhead cost), double it to get the wholesale price, and then double that to arrive at the price you see in stores. So in theory, if overhead costs increase, so will the cost of the clothes, which could hurt Ivanka's bottom line.
Rebecca Melsky, whose children's clothing line Princess Awesome is manufactured in the Chicago area, says it really depends on a) the scale of production, and b) how the company prices its clothing. "There may very well be a way to move production without moving price point, but the only company that would be able to do it is one that's fairly large already," Melsky said, adding that the cost might go up, but the "ethical" component might mean consumers would be willing to spend more for clothing made here. (There are plenty of sustainable clothing companies in the U.S., like Melsky's, that have already made that bet.)
But it's equally possible that the sales price is high enough not to be affected by the cost of production — as a veteran supply-chain director told Forbes regarding Ivanka's line, "If she brought back some manufacturing it'd increase the cost, but they certainly could do it; as long as the sales price is pretty high, you can add a little to the cost."
Of course, in the end it's up to Ivanka to decide whether potentially raking in fewer profits would be worth upholding her family's principles.