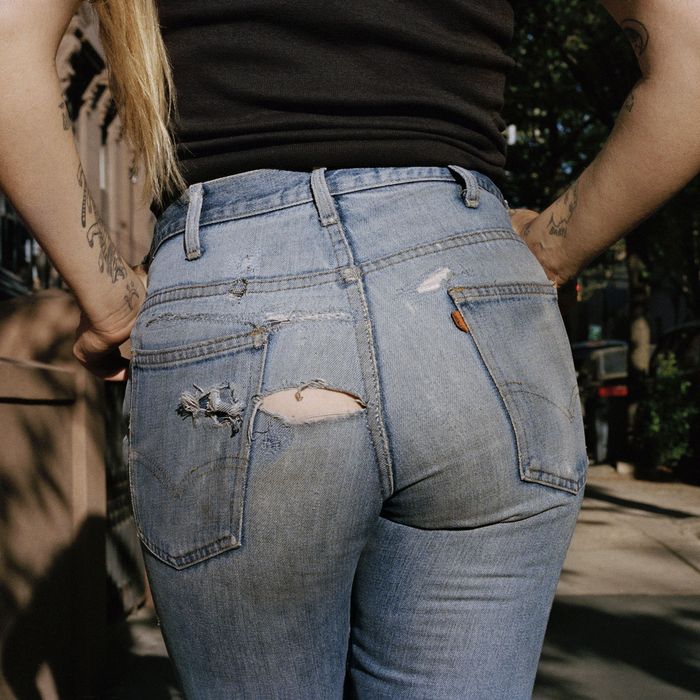 Jemima Kirke is one of photographer Kava Gorna's 100 Cheeks.
Photo: Kava Gorna
Photographer Kava Gorna's new book, 100 Cheeks, is an ode to butts and the jeans that love them. The book features 50 different women, shot close, from behind, in their favorite denim. Some of the "it" butts included in the series belong to Girls actress Jemima Kirke and jewelry designer Pamela Love.
"I'm very proud of my butt," Kirke told the Cut at a screening of Steven Spielberg's new film The BFG, hosted by Disney and the Cinema Society at Village East Cinema.
Gorna had shot Kirke a year earlier for an editorial, and, after starting the project, approached the actress and asked her for a portrait. Kirke, a painter who often depicts women in her work, liked the project because she thinks it's time for women to take back the male gaze. (Like Girls does.)
"I do think we need to take back objectifying women. It is something we have been doing for thousands of years and it doesn't have to be an ugly thing," Kirke said. "There's nothing wrong with it unless we don't get to objectify in the reverse, that's the only problem."
And naturally, every tush tells its own story: "I like that [Kava] has managed to do it all about butts but there is also a personality to it, so it isn't full objectification. It's the model's own jeans, the model's own stance, so there is something cute about it too. But it is not just cute, I agree with the message."
In her portrait, Kirke wears an old pair of ripped jeans. "I think jeans are a very personal thing. They have a lot of your own energy," she says. "I never wash them, I wear them all the time, and the holes happen right where your specific body type is pushing through."
100 Cheeks is on sale at Kindred Black, and Urban Outfitters.