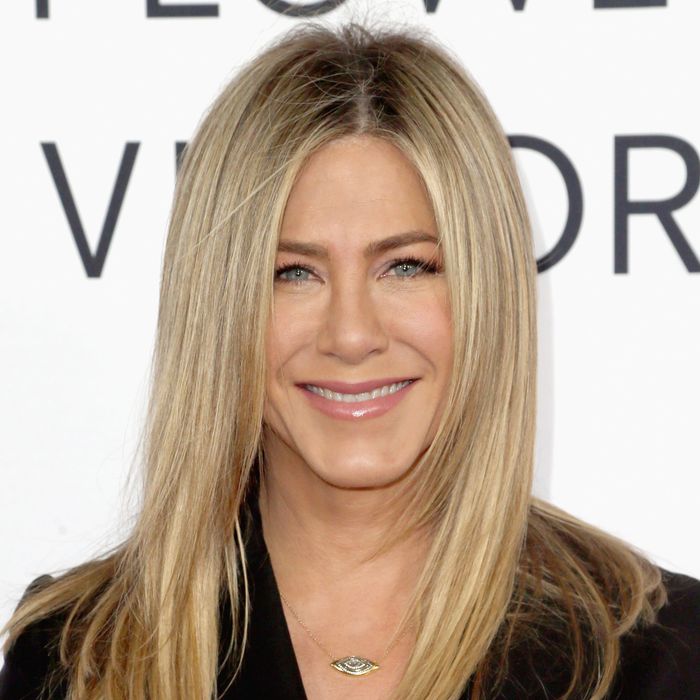 Jennifer Aniston.
Photo: Frederick M. Brown/Getty Images
Jennifer Aniston received a Lifetime Achievement Award at this weekend's Giffoni Film Festival in Italy, where she answered fans' questions and spoke movingly about her own experiences with bullying.
Reiterating some of the ideas raised in her recent Huffington Post op-ed about tabloid body-shaming, Aniston compared childhood bullying with online trolling, joining a chorus of Hollywood women who have spoken out about the toxicity of online culture. Last week, Ghostbusters star Leslie Jones called for Twitter to tighten its harassment policy after being inundated with sexist and racist hate speech. 
"Now with the Internet, it is endless, and it is a bunch of anonymous bullies that can sort of be stalking," Aniston said. "We used to think that it was just in childhood that we would be bullied or made fun of. I was. I think many of us can say that we were. And it's the worst feeling in the world. And now that we are grown up, the Internet is filled with them. And they're cowardly, and they're anonymous and they hide behind their computers, so it's about not allowing it to penetrate and have again, put your computers down and have conversations."
Asked by one teenager whether she ever woke up in the morning not knowing who she was, Aniston's eyes began to tear up. "There are not enough fingers and toes in this entire room to count how many times that moment has happened to me," she said. "We're all human beings at the end of the day, whether we're a waitress or a baker or a student or whatever we are, at the end of the day you kind of can hit walls and think I can't go any farther. Or this is too much. My heart can't take it or the pain is too great, or am I good enough? Will I survive? And you just have to sort of somehow miraculously overcome. You just go, 'I can't, yes I can, yes you can.'"
Hear that, Selena Gomez? You are not alone!