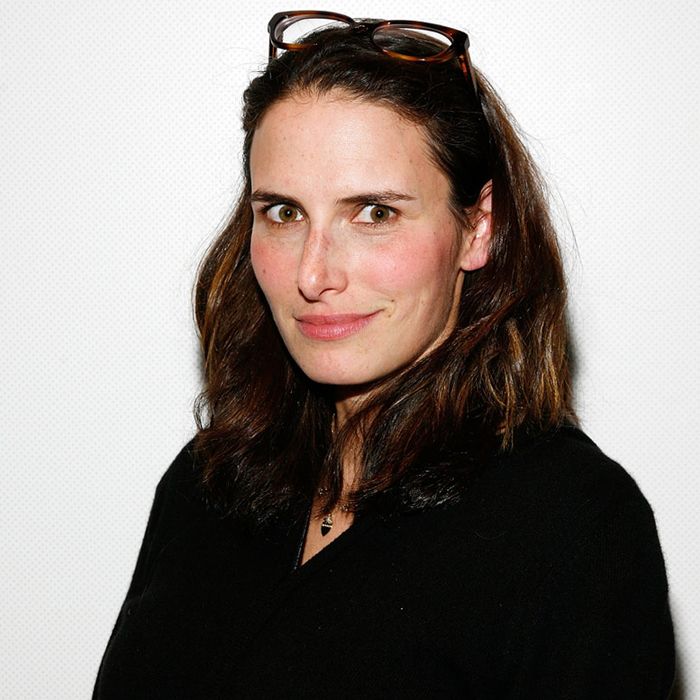 Photo: Courtesy of Grand Central Publishing; Getty Images
Halfway through Jessi Klein's new essay collection You'll Grow Out of It, the Inside Amy Schumer head writer and executive producer describes visiting a therapist after a particularly challenging breakup in her late 20s. "The first time Connie and I met, I had the feeling I imagine an orphaned baby animal gets when it spots a female of another species and chooses her to follow her around until she becomes its new mother, like the post-tsunami baby hippo that latched onto a matronly female tortoise," writes Klein. "She reminds me of my mom, without being my mom."
I'm not a baby hippo, but I felt this same sort of instant kinship as I tore through Klein's book of comedic personal essays, and again over the course our half-hour phone conversation this week. Klein, 40, certainly isn't old enough to be my mom, but I was drawn to her voice, like I could have spent hours basking in her warmth and insight and wit, and then happily coughed up a $150 out-of-network non-reimbursable co-pay to come hear it again the next week.
"A lot of what I seek out when I'm taking in art is for something that makes me feel less alone, less profoundly alone," Klein told me. "And I think when I sat down to write I wanted to try and do the same thing."
Over the course of 24 essays about her life, Klein charts her evolution from tomboy to the less desirable "tom man" ("essentially feral, and beyond shaving my legs above the knee") and her lifetime struggles with both the trivial and weighty matters of being a woman: breakups, pregnancy, aging, bad sex, expensive lingerie, Bar Method, and Gwyneth Paltrow ("impossibly full of shit, even though I have both of her cookbooks and buy every magazine she's on the cover of and think of her all the time and sometimes think of her right before I go to sleep"). There's an essay on her love of Anthropologie (a place where she feels "emotionally home … as if somewhere behind the rack of Eiffel Tower dish towels, I will find MY REAL DAD") and her hatred of baths. There's a great piece about the divide between poodles and wolves (women who have to try and those who don't, the Jolie vs. Aniston dichotomy), while an essay on aging hints at where Inside Amy Schumer's infamous "Last Fuckable Day" sketch might have sprung from (after an exec tells her she could play Natalie Portman's mother, Klein riffs: "In entertainment, if you are a day over 30, you are seen as being a viable great-great-grandmother to Elle Fanning").
As you'd expect from the woman who co-steered Inside Amy Schumer to two Emmys and massive acclaim last year, the essays will make you laugh. But as early as the second page, it's clear that Klein is striving toward more than mere chuckles, and at a more thorough accounting of what it means to be a woman in the world today.
"The very idea of possessing an 'inner voice' felt by definition like a male characteristic," Klein writes of her youthful flirtations with masculine dress in the opening chapter, about being a "tom man." "In contrast, the tent poles of 'femininity' as I observed them — high heels, eye makeup, Diet Coke, smiling, etc. — all seemed to be focused on the external." The chapter concludes with a theme that recurs throughout the book: "When I looked at what it would mean to become a woman — one of those standard grown-up ladies, like the ones from commercials for gum or soda or shampoo — it all seemed to involve shrinking rather than growing." Many of the essays share a quality evident in Inside Amy Schumer's best sketches: the ability to smuggle in something subversive and profound by wrapping it in a very funny package.
"I definitely didn't sit down and think to myself, well, it's time to start grappling with the feminist themes," she says, laughing, when I ask her about the book's political slant. "I think this is sort of an old, clichéd chestnut, but I think most old, clichéd chestnuts have a little truth to them: The personal is political, and if you're a woman and you're willing to tell your story and be vulnerable that can often end up being a pretty feminist act." This is particularly evident in the book's final chapters, one which deals with her infertility treatments, as well as a brilliantly funny polemic titled: "Get the Epidural," which Klein says bubbled out of her frustration with how the choices she made as a pregnant woman quickly seemed to become everyone else's concern. As she observes: "It's interesting that no one cares very much about women doing anything 'naturally' until it involves them being in excruciating pain. No one ever asks a man if he's having a 'natural root canal.'"
How each chapter will resonate depends on each reader's particular station in life, and I suspect neurotic, semi-dorky Jewish girls in New York who love writing and comedy might feel the hippo-tortoise affinity most keenly. So it's no wonder that I was most engrossed by the chapters set during Klein's 20s, when she was struggling to find her way into her chosen career path, grappling with tumultuous relationships, and questioning how to exist in the world while pouring out her soul weekly on Connie's couch. It wasn't long into our conversation before I'd strayed from my prepared questions and was getting Klein to give me advice on my own life, confessing how her stories reminded me of my own struggles. "The more something feels like the end of the world, it definitely is not," she reassured me at one point. "Because the only way you'll know that is through the passing of time, and you can't know that until the time has passed." You'll Grow Out of It is a book about struggle, but it's also a book about survival.
"I think for a very long time, including now, there has been this view that writing about the details of women's lives feels somehow more trivial than writing by men," Klein tells me, adding that she always believed her own insights and experiences could never pass as quote-unquote "real literature." Working on Inside Amy Schumer, in a writers' room where she was free to pitch topics that another sketch show might have rejected, helped her strengthen her voice, and to realize that she had something to say that other women might want to hear. "Even when I was starting out to write a book, I thought, those are books, that's literature, and what am I going to write?" Klein muses. "How is my stupid essay about Anthropologie going to matter? And I think that's a really toxic view to internalize. I think the details of women's lives are as important as anything in all of literature."