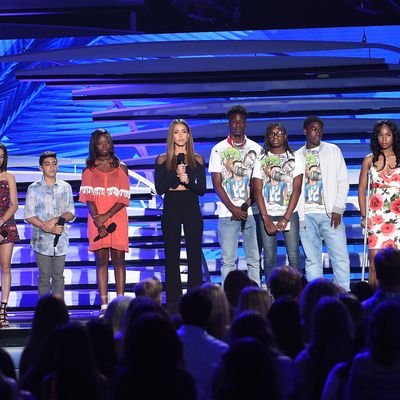 Photo: Kevin Winter/Getty Images
The Teen Choice Awards on Sunday night took a break from its usual lighthearted programming to call for an end to gun violence.
Jessica Alba broached the subject as she stood alongside and introduced teens who've been impacted by mass shootings such as those in Newton, Connecticut; Orlando, Florida; and San Bernardino, California.
Images of victims of gun violence flashed on the screen behind Alba and the group. Among those shown was Alton Sterling, the black man who was fatally shot in July by a police officer in Baton Rouge, Louisiana. His 15-year-old son, Cameron Sterling, was the last person Alba introduced.
Ne-Yo also joined the group and told the audience that, "We need to come together as one." He and Alba asked viewers to post using the hashtag #StoptheViolence.
The somber moment struck a chord with many of those in the audience.
The venue went silent as Ne-Yo performed Marvin Gaye's classic song, "What's Going On."